INTERNATIONAL | FRIENDLY | SPAIN 3 - URUGUAY 1
A whole lot of Pedro as Uruguay offer little
Spain won the battle of Continental champions. A howler from Muslera allowed Cesc to open the scoring, Cebolla got the equaliser before Pedro picked up his brace.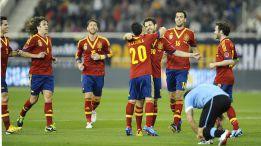 A win and two conclusions. Spain are better than Uruguay in the desert, or at either Pole, but they need a minimum of excitement to show it, and Iniesta and Pedro are capable of shining in any role, in any theatre. They can do tragedy or comedy. And they can drive this team, down one flank or the other, score World Cup winning goals, or two to decide a friendly. Two sons-in-law perfect for any family, two footballers perfect for any XI. With their drive and the explosion of Isco, who burst on the scene to knock the door down, Spain took care of Uruguay in Qatar, a country that in nine years time will be the shrine of football. Tabárez's team were neither fish nor fowl. They have little behind the two strikers and they weren't sufficiently up for this Europe - America battle to come away with anything.
When Muslera's shocker arrived Spain already had the game by the scruff of the neck. Iniesta and Cazorla were running the game; Mata and Pedro kept things tight on the wings and Cesc was here, there and everywhere in his false number nine role, where he both creates and converts. Del Bosque pushed his defensive line up to deny Uruguay and their two front men space; Cavani and Luis Suárez are greyhounds rather than pitbulls. Spain controlled the game without effort, passing. Uruguay's goalkeeper did the rest, Cesc's tame long distance effort slipping through his buttery gloves.
Spain settled back for a snooze at 1-0, highlighting the friendly nature of the game. Uruguay responded moderately but intelligently. They didn't push their midfielders up, they kept Lodeiro far from his marker, and they saved themselves work with long balls to Cavani and Suarez. What you would expect from a team that are better at scoring than they are at playing. The Napoli striker got behind Puyol once, and the Liverpool star made the Spanish centrebacks suffer with a couple of runs and feints. It wasn't much, but it was enough for a draw. Puyol gifted Cebolla a yard, Martín Cáceres sent the ball into the gap and the resulting strike was magnificent to beat Valdés with half an hour gone.
With their foot off the gas again the Uruguayans retreated to Muslera, and Spain retook the ball, but without pace or utility. It was slow-burning domination with no excitement or chances. Jordi Alba, this season's bolt of lightening, only broke the speed of sound once, to deny a Suárez counter. In attack he was near-mute. Azpilicueta, on his debut, started daringly and finished boringly. Puyol, earning his 100th cap, will have 90-odd better afternoons to remember; he missed a good chance, had a goal chalked off and lost Cebolla for the Uruguay goal. He was then honoured at half time for his century of appearances for Spain. The party showed just how little tension there was for the well paid kick about.
Del Bosque changed his attack for the second half. He brought on Villa, a player hungry for glory, and moved Pedro from one side to the other. The treatment gave quick results, because seven minutes later Pedro put Spain back in front. Godin came for the ball recklessly and Piqué delivered the killer ball. Two minutes later he was at the other end, taking the ball cleanly off Cebolla.
The game opened up from there, in part due to the substitutes. Valdés made a fingertip save to a diagonal shot from Cavani, Villa didn't adjust his sights when facing Muslera and Isco and Mario Suárez made their debuts. The occasion brought out the best in Malaga's genius. With Piqué together with Ramos Spain were tighter at the back, and Forlan was less threatening than Cavani. With the game going faster Spain looked better, and with a combination 'Made in Barcelona' Villa-Cesc-Pedro put the match to bed with a work of art that looked simple. It's all looked simple for five years now. Delightful.