REAL SOCIEDAD | SANDER WESTERVELD
Westerveld: "Players received injections but it wasn't doping"
The former Real Sociedad goalkeeper spoke to a Dutch magazine about the practices of his fomer team, but insisted players were not given anything "out of the ordinary".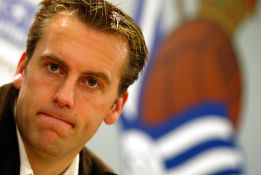 Former Real Sociedad goalkeeper Sander Westerveldhas declared that various players received injections before and after matches during his time at the Basque club, but insisted they were not doping.
The Dutchman gave an interview to the magazine'Voetbal International'two days after former Real Sociedad president Iñaki Badiola claimed he had found evidence that the club purchased doping products between 2001 and 2007, the same day in which the reference 'Rsoc' had been found on documents owned by the notorious doctor Eufemiano Fuentes, the subject of the ongoing Operation Puerto court case.
"Of course there were players at Real Sociedad who would receive injections before and after matches," said Westerveld, adding that the practice was carried out in a completely open manner. However, he did not specify which substances players would take.
"Considering all the stories that have come out recently, I would not rule out anyone doping," he added.
"But I never saw or noticed anyone receiving anything out of the ordinary. I never believed that any substance would have helped my performances."
Westerweld, who was la Real's goalkeeper between 2001 and 2004, said he thought it was strange that Badiola had revealed that the club had bought doping substances under previous presidents and said these types of revelations should be accompanied by offering the first names and surnames of people involved.
And he defended the club's record in the league in 2002-03, when la Real finished second in the league and only lost the title to Real Madrid on the last day of the season, by just two points.
"We came second by playing quality football and tactics, not by playing physical football or by running our hearts out for 90 minutes," he stressed.