DAVID BECKHAM
"Bonjour": PSG unveil David Beckham as latest signing
"I chose Paris because I can see what the club are trying to do - I can see the kind of club they will be in 15-20 years time," said the former England captain.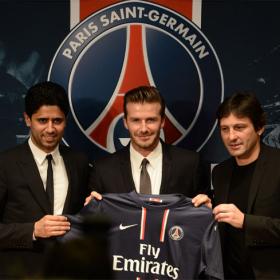 Paris Saint Germain have signed David Beckham on a five month contract and the former England captain, still a figure who inspires huge media attention, did not disappoint in his first press conference with the Paris club, introducing himself by saying "Bonjour" and then making it clear that one of the first things he will do in the French capital will be to improve his grasp of the language.
"I haven't spoken French for quite a few years, since I was at school, so I'll definitely have to brush up on it," he said.
Beckham explained that the club's ambition was a key factor in him signing for PSG, and they were far from the only club that wanted to sign him.
"I'm very lucky. I'm 37 years old and I got a lot of offers. I've had more offers now than I've had in my career at my age so I'm very honoured by that.
"I am excited, it's something that we've been talking about for quite a while and now it's finally happened. My wife and children will be staying in London because the children go to school there now.
"I chose Paris because I can see what the club are trying to do - I can see the players they're trying to bring up and the kind of club they will be in 15-20 years time. I'm not saying I'm going to be playing in 15-20 years but to be part of something like this is very exciting. I'm very excited and honoured to be here."
"I don't see that it's a short term project, it might be a short term project for me playing but there's a lot happening in this club with these owners. Whatever club I've gone to and whatever team I've played for, I've worked hard."
Beckham also announced that he will donate his entire salary while at the club to a local children's charity, something he and the club "are very excited and proud to be able to do. I'm not sure if it's been done before but it's something I'm very passionate about. I'm pleased that we can give a huge sum to a children's charity in Paris - it's very special."
Beckham said he could not have joined another English club because "Manchester United is the team I support and it's the team I always have supported".
And he was confident he would still be able to offer a lot on the pitch for his new club.
"I'm 37 and I'm still fit, I can run around and play like I did when I was 21. I haven't lost pace because I never really had a lot of pace.
"I don't expect to come into this team and play every game - I need to work hard. I don't automatically expect a place in the starting eleven. I might have only signed a contract until the end of the season but I consider myself to be part of helping this club to grow, help the French league to grow and become one of the biggest powerhouses in football.
"I feel very good at the moment, I'll see how I feel at the end of the season and I want to continue to play for as long as possible."
The Englishman is the latest in a string of high profile signings the club have made since they were bought by Qatari investors in 2011, including Thiago Silva, Javier Pastore and most notably Zlatan Ibrahimovich.
And Beckham, known throughout his career for his ability at taking set pieces, joked that he would not fight with the Swede over the right to take the team's free-kicks, saying: "Perhaps he will take them, he is bigger than me."