COPA DEL REY | REAL MADRID 1 - BARCELONA 1 | PRESS OVERVIEW
World's press hails Raphael Varane's fantastic Clásico
The international sporting press comes together in highlighting the Frenchman's great performance and Madrid's attitude in not giving in against a Barça who could have killed the tie off.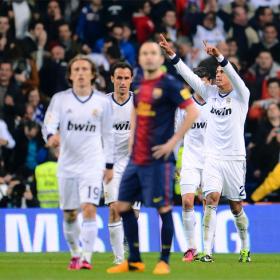 Barcelona had the chance to put their Copa del Rey semi-final almost out of Madrid's reach, but they made mistakes with the executioner's axe in their hands at 0-1, and eventually conceded Varane's headed equalizer. That's the summary of last night's events by the Argentinean paper 'Ole'. It adds "Barcelona was ahead after a Fábregas goal from Messi's pass, and could have extended the advantage but the home side got an equalizer in the final stretches. Varane pulled Madrid level and ensured that this Copa del Rey semi stays open. It'll be decided at the Camp Nou."
'L'Equipe', meanwhile celebrates the great night had by its countryman Varane, who "stopped Barcelona", and says that both teams 'cancelled each other out' in a match it describes as 'very intense.' 'ESPN' also underlines the importance of the French defender and affirms that he "kept alive" the hopes of the team in white after the huge setback of Cesc Fábregas' goal.
'A Bola' prints a very clear headline: "Madrid had touched bottom but Varane came to the rescue." 'La Gazzetta dello Sport' follows similar lines, going with "Varane saves Mourinho." And it adds: "a headed goal from Raphael Varane in the last 10 minutes of a spectacular clásico keeps Madrid's hopes of qualification for the final of the Copa del Rey alive. Barcelona went ahead through Fàbregas, with help from Messi after the break, and were close to striking a fatal blow before the equalizer came."
The 'Corriere dello Sport' titles "Cesc inspires Barça, Varane saves Mourinho." It also highlights the great spectacle provided by both teams at the Bernabéu: "The result was 1-1- but the first 'Clásico' of the year could easily have ended 4-4 or 4-5 to the 'azulgrana'. The game was passionate, open and spectacular."
'The Sun' harks back to Cesc Fabregas' Premier League past in its report, which it gives the headline "Simply Fab-ulous."
'The Guardian' celebrates the fact that the 'Clásico' was a "rich and entertaining" game, and notes that the difference between the two teams' league position couldn't be seen on the pitch. It also sends out a message in Mourinho's favour: "He could get to May and win the Champions League in his last match with Real Madrid, and then we'd see Ramos and Casillas with shirts bearing his name."
Finally, Germany's 'Bild' highlights the role played by Özil: "Özil rescues Real", it prints. "In the 81st minute Özil assisted the French under-20 international Varane, who headed into the net from outside the area, getting a crucial goal which keeps the fans' hopes of victory alive", the paper goes on.