COPA DEL REY | REAL MADRID - BARCELONA
Jordi Roura: "I expect Madrid to come out fighting"
The Barcelona second in command took the pre-match conference with Tito still on medical leave.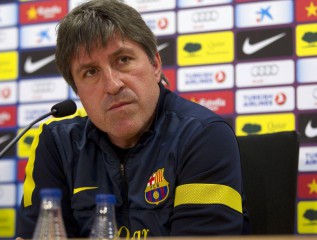 Barcelona stand in coach Roura took the pre-match press conference before tomorrow's Clásico:
What do Barcelona expect tomorrow? "We'll try to win it, by playing our style of football, our system. We'll try to come away with something for the return leg. I don't think Madrid will be affected by the players they have out though, because of the depth of squad they have. I think Madrid will be focused, tough, it will be difficult for us. I wouldn't ever write Madrid off, they are a hypercompetitive team".
Can you finish the tie off? "What more could we wish for! I'd like to come away with a good result but experience shows that things are not settled after the first leg between the big clubs".
Will it be Messi, Pinto and nine others? "We aren't giving the team sheet, I'd prefer not to. We never do".
But can you confirm Pinto is playing? "I'd rather not. We always do it like this. We'll announce the line-up on the day of the game".
Madrid's keeper, Adán or Diego López? "Whichever keeper they play, any coach is going to be playing whoever they think is best for their team. Taking nothing away from Iker, because he's an international keeper and has been with Madrid for so long, but if Adán is with Madrid it's because he's more than good enough. And Diego López has a long history in the top flight. They'll be more than covered in goal, just like we will be".
Which Madrid do you expect, creative or just trying to break up Barcelona's play? "Madrid always want to play football. So it will be each to their own, with their own characteristics. Madrid will play with their style, Barcelona with theirs. I don't expect Madrid to play dirty, to expect that wouldn't be right".
Will you talk to your forwards, to get them to take advantage of Madrid's missing defenders? "They are still so good. I don't expect any difference from the team they could have put out. We haven't changed anything, because they won't change too much. In spite of the players who are out Madrid will field a great team. What is not in doubt is that the games are very even, and can be decided by the smallest detail. Madrid have been better than us in so many areas. These games are decided by the smallest margins".
How does it feel to be in charge in the Bernabeu? "As you've said, I'm here in charge because my boss and my friend is in a tough spot and all of us together are trying to get him through this. If we win, excellent. If not, we keep working".
How does the League influence this game? "We've a good lead in the league, our players have been outstanding but our goal is to get through this tie. The two competitions are distinct. We'll approach this game with the same desire we have for the other competitions".
The extreme tension in recent Clásicos seems to have gone...why? "In the other games things were very tense, but I don't know why. I don't know if it's because the players have talked, or who knows what. I hope both teams fight to win, but within the spirit of fair play".
How do you stop Cristiano? "I think we can expect a player of the level of Cristiano to score goals, and to keep scoring more. He's one of those players where we all know what they are capable of, but it's so hard to stop them. That's why they are so good. There is no magic formula to stop Cristiano Ronaldo; there is no magic wand to put the brakes on him. That is why players like him are so brilliant".
Iniesta: "I don't know how many assists he's scored, but he's playing extraordinarily well at the moment, I think this is one of the best spells of his career. I hope we can continue to enjoy him playing at this level for a long time".
Villa to Arsenal? "He's our player, and he will be until the end of the season".
Would winning in the Bernabeu be a hammer blow? "I'll say it again. I don't think so. I think that in those circumstances Madrid would be at their most dangerous. In any case Madrid, with or without people out, have a great squad, an amazing team, and it is very difficult to beat them at the Bernabéu. I think this is what we need to do, focus on how difficult this will be".
What would be a good result? "A good result would be to win the match, but afterwards you have to see how the game played out, and how things are. For us it would be magnificent to win. Whatever the result, we'll almost certainly still have a game on our hands for the second leg".
Euphoria: "I understand that people talk about it, and see that Madrid have people out and start saying that Barça can beat Madrid, but with or without people out they have a great team. It'll be a tough game, as it always is".
Nerves: "I'll try to treat it like just another game, but it is different. There is the second leg to play too, and I'll try to be calm for that. I don't know how Madrid will come out. I don't know if they'll sit back or press high up the park".