REAL MADRID | IKER CASILLAS
Iker Casillas out of action for 6-8 weeks with fractured hand
Club doctors want him to return in time for the first leg of the Champions League tie with Manchester United, but it is more likely he will be available for the second leg, on 5 March.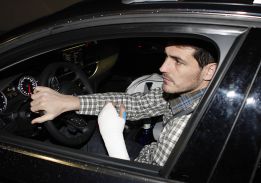 Iker Casillas fractured his left hand during Real Madrid's Copa del Rey quarter final second leg clash with Valencia and is expected to be out of action for between six to eight weeks.
An official statement released by Real Madrid on Thursday morning confirmed the injury, and said that the goalkeeper would undergo tests later on in the day to determine the treatment he needs to follow.
The aim of the club and its doctors, who still believe in pulling off a miracle, is for Casillas to return in time for the first leg of the Champions League second round tie with Manchester United on 13 February. This may prove to be too optimistic, but the club are hopeful he will at least be available for the second leg of the tie at Old Trafford, on 5 March.
Casillas will miss Real Madrid's league games against Getafe (27 January), Granada (2 February), Sevilla (9 February), Rayo Vallecano (17 February) and Deportivo La Coruña (24 February).
It remains to be seen whether Casillas will be able to play the Clásico against Barcelona on the first weekend of March. He will also miss both legs of Real Madrid's Copa del Rey semi-final games, against either Málaga or Barcelona, on 30 January and 27 February.
Casillas had to leave the Mestalla pitch on Wednesday after just 16 minutes, after Álvaro Arbeloa accidentally kicked him in the left hand when trying to clear the ball in the box after Casillas had fallen to the ground.
Casillas was attended to by doctors on the pitch for three minutes but was then replaced by Antonio Adán.
As soon as Madrid's plane landed back in Madrid from Valencia, Casillas visted the Hospital La Moraleja to undergo tests, and left the centre half an hour later. He did not want to make any declarations to the press but he waved to assembled journalists, who could see that he was wearing a bandage on his left hand.
Immediately after the game Casillas spoke to the press about the injury.
"I realised something was wrong as soon as I was hit, something is not right," he said.
"The doctors are optimistic but you have to analyse these types of injuries very carefully. I have no idea what's wrong, all I know is that it hurts and when I move my index finger I can hear a sound. I felt a very strong pain, as if I had broken something."