LIGA BBVA | REAL SOCIEDAD 3-2 BARCELONA
Tito: "I told Piqué he'd be sent off for the next foul he made"
The Barcelona coach congratulated La Real on the win, but promised the result would not affect the team's spirit. "We had to lose in the league one day, it can always happen in football."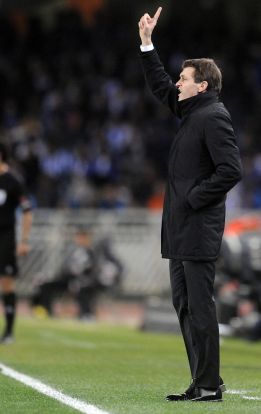 Tito Vilanova sought to restore calm after Barcelona threw away a two-goal lead and crashed to a 2-3 defeat to Real Sociedad, their first loss in the league this season.
The Barcelona coach congratulated the Basques on the three points but also lamented the sending off of Gerard Piqué for two bookable offences, which he thought was unfair.
"I have to congratulate Real Sociedad and I have nothing to be angry with my players about," said Vilanova after the match.
"In the first half we hit the post twice and we had other chances too. But with the scoreline at 2-0 I thought it was going to be easy. Then the game became harder for us and they made it 1-2, fair and square. I told Gerard (at half-time) that he would be sent off for the next foul he gave away, and that's what happened. We had the game under control in the first half. We thought it might get difficult but we were playing well and if we'd got the third goal the game would have been over. But once we were reduced to ten men, the game changed."
Was Piqué's sending off unfair? "There were 200 fouls in today's game. I think what happened is very clear, there's no point going over it again."
Will the second half of the season be tougher after a result like this? "I said before that I never thought the game would be easy due to the level of performance La Real have shown recently. The shot by Messi, which was stopped on the line, was crucial. We knew that one goal would put them back in the game and they had an even better chance after Gerard was sent off. Then at 2-2 they got their last goal in stoppage time."
Will this affect the team spirit? "No, we are here to win this title. We had to lose in the league one day, it can always happen in football. It happened in the last few minutes, but I'm not worried about it. There are a lot of games left and they will all be difficult."
Real Sociedad: This year they have looked more intense and more like a team, they are a lot stronger. Everyone got involved in the play, and Xabi Prieto was at the heart of it. They impressed me a lot."