LIGA BBVA | BARCELONA | LEO MESSI
Leo Messi: "You can't even talk to some referees"
The Barcelona striker gave an interview to the newspaper 'El Periodico de Catalunya'.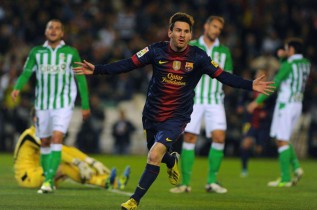 Lionel Messi posed with his fourth Ballon d'Or for the interview with 'El Periodico de Catalunya' and stated that his son had changed him more that this latest award. He also had strong words about some referees...
Officials: "I talk to my opponents and to the referees. You can talk to some of them, but with others you can't. With some referees, for absolutely nothing, without even saying anything, they'll book you".
His true position: "I'm a false centre forward. I'm not a true centre forward because I like coming from behind, linking up with people in the midfield, getting the ball, dribbling and passing. I'm lucky enough to be with spectacular players and to be able to link up with half the team".
Argentina: "I don't know when, but one day I'll play in Argentina. It's not possible to put a date on it and you never know what can happen in football, but it's a dream for me. I've always wanted to play in Argentina".
Captain of his country: "I never imagined it. People said so many things about me. I was criticised so much I never thought it would happen".
What he still has to do: "Win a World Cup. That would be amazing. It would be the biggest thing after achieving everything possible with Barcelona".