LIGA BBVA | BARCELONA | MESSI
Müller receives Messi gift and says, "He's the best"
On Thursday, 'Der Bomber' received a special present - a signed shirt from Leo Messi which the Barça ace sent as a gift after breaking his record for goals in a calendar year.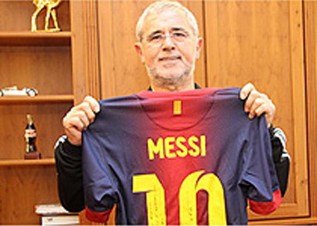 There was something special in Thursday's post for German football legend Gerd Müller. The former player received a signed shirt from Leo Messi. The Barcelona ace sent the parcel at the start of the New Year after breaking Müller's long-standing record of 85 goals in one calendar year, set in 1972. On receiving the autographed number 10 shirt, a delighted Müller said he felt "happy and proud" to be the recipient of such a thoughtful gesture from "the best player in the world".
Four decades after he became the first player to net 85 goals in one calendar year, Müller watched Messi hit 91 goals for Barcelona and Argentina in 2012 - a feat which earned him a record fourth Ballon d'Or.
Müller, who now shares coaching duties of Bayern Munich's reserve team, was photographed proudly holding the shirt aloft in the club's offices and says that he will donate it to the club's museum so that football fans from all over the world can see it.
Messi's inscription on the shirt read: "For Gerd, with my respect and admiration, a hug, Leo Messi".
Sandro Rosell also acknowledged Müller's achievement in a personal letter to Bayern Chairman Karl-Heinze Rummenigge. The Barcelona President considers the previous record to have been "a great motivating factor and stimulus for Leo".