BARCELONA | GERARD PIQUÉ
Piqué: "Mou got away with murder until he started losing"
Piqué also warned that Barça cannot afford to become complacent. "Pep told us 'praise can cause you more harm than good'. We should be pleased with ourselves but we need to keep on going."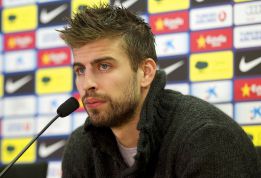 Gerard Piqué believes Barcelona can still improve, despite finishing off the first half of the season with a 3-1 win over Málaga on Sunday, racking up a record breaking 55 points, winning every single game bar one (the 2-2 draw with Real Madrid in October).
And the centre-back offered his opinion on Real Madrid's current situation, opining that José Mourinho's controversial behaviour is nothing new, but that he has only come in for criticism for it now that Madrid have been getting poor results.
Do Barça feel invincible? "You can never feel you are unbeatable because as soon as you get that feeling you are most likely to lose, you go into games without intensity and without wanting to win. We have to continue with the same strategy and on the same dynamic, that's what will help us."
Are the team better than under Pep? "I think that's intangible. Everyone will have a different opinion. I think we are playing great football. We have been playing at our most comfortable in the last few games. But all that counts is trying to win the three trophies. We did that with Pep and we want to do it with Tito."
Have Barça reached their peak? "When we won the treble it looked like we'd peaked but then two years later we improved even more, we played even better. Against Manchester United (in the 2011 Champions League final) we put in one of the best ever performances in the history of the club. Now we have signed Jordi Alba and other different players. We have to keep evolving, we have to keep improving, and look for new challenges. I think we're going to start playing to a very high level again."
Real Madrid are now 18 points behind Barça "I will still consider Madrid title rivals until it becomes mathematically impossible for them to win the league, there's too much history there and they are too great a side to rule out. Madrid have something in them that when they start to believe in themselves they can launch comebacks like you'd never believe."
Real Madrid's performance against Osasuna: "I don't think Madrid had given up on the league before the game. They were missing four or five crucial players and they had the right attitude. Madrid have never focused on playing great football. They have intensity and ambition and they overwhelm their opponents. They really missed their injured players."
Being lavished with praise: "We are used to receiving praise, we know how to deal with it. Pep told us 'Praise can cause you more harm than good,' and he's right. We should be pleased with ourselves but we need to keep on going."
What do you think of what's going on at Madrid? "It makes me laugh, because I remember when Madrid were winning, and Mourinho got away with murder. He even came here and poked Tito in the eye. How many games was he banned for that? None. Now Mourinho has picked on Casillas, threatened a journalist, and people are criticising him. Mourinho has always been like this, ever since he arrived. And he got away with everything. I don't think the press should act like this, and the same goes for the press in Barcelona as in Madrid. Barça don't do everything well, but look at the front pages of El Mundo Deportivo and Sport and it looks as if the club does everything well, everything chances when things go wrong. So I say the same for both sides, for Madrid and for Barcelona.
How will the team cope with the upcoming surge of games? "The team learns from everything. Last year was an important reminder for everyone. The Copa del Rey and the Champions League will help us stay competitive. Now we have a game in the Copa, then in the league, then in the Copa, it's going to be non-stop, playing every three days will be better for us than playing every weekend. The team becomes more competitive when everyone plays."
Alternative tactics: "We can play in a number of ways. Tito has opted for more central midfielders in the last few games. The first year we won the treble (2008-09) we had a fixed team but I think this year the team can move around, this year we have a very good squad and a very competitive squad."
Málaga players saying they wanted to applaud Barça: "It's high praise, credit to them for being so sincere. We meet again on Wednesday and I hope they feel the same way again."