LIGA BBVA | BARCELONA | VALDES
Victor Valdés: "I'm yet to talk about my future"
The Barcelona goalkeeper spoke out in the wake of rumours about potential contract renewal discussions with the Catalan giant.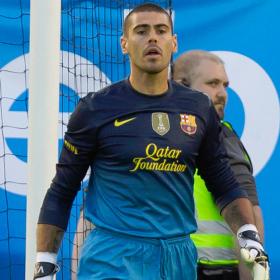 Barcelona's director of football, Andoni Zubizarreta, spoke to Spanish television station Telecinco yesterday and stated that the club had spoken to their goalkeeper Victor Valdés and his agent to discuss his contract renewal. "The conversations we've had with the player and his agent are going well", said Zubizarreta. He also refused to discuss rumours that Valdés had refused to discuss a renewal of his contract.
In the wake of this announcement the player's agent Ginés Carvajal took the opportunity to speak out: "At no point have we sat down to discuss the future of Victor Valdés. We've spoken to Zubizarreta a couple of times and he's said that they want to talk to us about Victor's renewal, but there hasn't been anything more than that". The comments were published by newspaper 'Sport'.
Carvajal continued: "Zubizarreta is willing to sit down and talk about Victor's future, and when they call us we'll be there and each side will put forward their point of view. When Barça call us we're ready to talk".
Valdés then turned to Facebook to make his own statement: "Hello everyone, I just want to make it clear that I've yet to say anything about my future. I will do when the time comes. Anything being said at the moment is speculation".
The goalkeeper has a contract with Barcelona until 2014, and a buy out clause of 150 million euros. The club is keen to extend the deal to 2018, if they can agree terms with the player. Valdes' intention is to carry on at Barcelona, in principal, although it is known that he is keen to play in other leagues at some point in his career. The Premier League seduces many...