BARCELONA | VÍCTOR VALDÉS
Valdés: "I still have not made any decision on my future"
Valdés is under contract with Barça until June 2014. The club want to offer him a new four-year deal, but it is well known that the goalkeeper is seduced by the Premier League.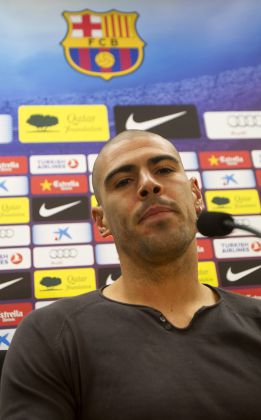 On Thursday Barcelona director of football Andoni Zubizarreta told television reporters that contract negotiations between the club and Víctor Valdés were going well.
"The conversations we have had with him and his agent are on the right track. I won't talk about rumours or answer any questions about them," said the former goalkeeper.
But on Friday morning Valdes and his agent Ginés Carvajal contradicted Zubizarreta.
"We have never sat down to talk with Barcelona about the future of Víctor Valdés," Carvajal told 'Sport'.
"We've spoken with Zubizarreta a couple of times and the club have told us he wants to speak to us about renewing Victor's contract, but nothing more.
"Zubizarreta wants to sit down and talk about Víctor's future and when he calls us we will be there and will tell him our point of view. We will start talking whenever Barça decide."
Later in the day Valdés wrote the following message on Facebook:
"Hello all, I want to make it clear that I still have not made any decision on my future, I will do it all in good time. Everything that has been said so far in this respect is just speculation."
Valdés has a contract with the club until June 2014 and has a buyout clause of 150 euros. The club want to increase his contract until 2018, if both parties can agree on his salary.
However, it is well known that the goalkeeper wants to play in other leagues before he retires, and is particularly keen on playing in the Premier League.