FIFA BALLON D'OR | DEL BOSQUE
Vicente Del Bosque named FIFA Coach of the Year
The Spain coach beat José Mourinho and Pep Guardiola to the award, which he picked up at the FIFA Ballon d'Or award ceremony in Zurich.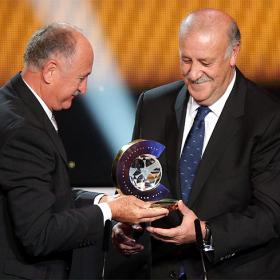 Spain coach Vicente del Bosque won the FIFA Coach of the Year award for the first time ever on Monday.
The Salamanca-born coach beat former Barcelona coach Pep Guardiola and current Real Madrid coach José Mourinho to the award, which was presented to him at the FIFA Ballon d'Or Ceremony in Zurich.
Del Bosque lead Spain to the 2012 European Championship in Ukraine and Poland, his second consecutive trophy in just four years as coach of 'La Roja', making Spain the only national team in history to win three major trophies in a row.
He received a standing ovation from the audience and in his acceptance speech thanked everyone that had helped him win the award, and stressed the need for values in football.
He said: "Congratulations to Guardiola and Mourinho. It is an honour to represent the Spanish national team. I want to thank all the players in my team because they are great players and they help us all improve. I also want to thank my family and all the coaches I have worked with in my career, because they encouraged me to become a coach. We all want to win but we also need to look after and care for the well-being of football. We must aspire to conduct ourselves as well as possible and follow our personal ethics."
Before the ceremony, Del Bosque told assembled media of his pride at the fact that two Spaniards - he and Guardiola - had been nominated for the award, adding: "Our country is at the peak of world football at the moment and we are looking forward to the future, to the Confederations Cup and the next World Cup. In the past we used to look at other countries in envy but now we are as good as anyone."
He also revealed that he had nominated three Spaniards - Iker Casillas, Xavi Hernández and Andrés Iniesta - for the FIFA Ballon d'Or "to recognise in general the high level of Spanish football".