LIGA BBVA | BARCELONA 4-0 ESPANYOL
Barcelona return from their holidays as dominant as before
Tito Vilanova returned to the dugout after cancer surgery and watched his team destroy their Catalan neighbours with a four goal blitz in the opening half hour.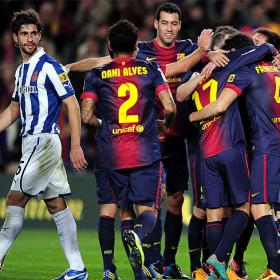 Barcelona started 2013 in the same manner they finished 2012 - ripping their opponents to shreds. And they may even have improved since the break.
They displayed an intensity not seen since their finest hour under Pep Guardiola, and with Tito Vilanova back in the dugout after cancer surgery, they dispatched Espanyol in half an hour.
'Los Pericos' coach Javier Aguirre said the day before the game that Espanyol fans had told him they wanted his side to crush Barça, but the Mexican was reminded that if anyone hands out a beating in the Camp Nou, it is the team wearing red and blue.
'Los Culés' scored all four goals of the game in a blistering first half which sent a clear message to those waiting for them to slip up, a warning that they are as hungry as ever, and their precision passing and elegant touch is still intact.
Xavi got the ball rolling after ten minutes, meeting a cut-back from Andrés Iniesta with a deft touch from inside the six-yard box. Then Pedro, who had not scored in the league since the first game of the season, bagged a double. First he diverted a shot from Leo Messi into the goal, and then ran onto a perfect through ball by Sergio Busquets to chip over Espanyol goalkeeper Kiko Casilla. A minute later, Fábregas was brought down by the goalkeeper and Messi converted the resulting penalty to attend his usual appointment with the goal and equal a personal record of scoring in eight successive league games.
The fixture pitted together two teams with contrasting styles, exemplified by the fact that one was lead by Messi, and the other by Simao. Barça owned possession and pressured the visitors into protecting their own area. The first time Barça penetrated the box, they scored, and they did it in their favoured way, playing across the pitch on both wings and effortlessly finding gaps in the defence.
With the result wrapped up by the end of the first half, Barça made some changes, with Xavi, Fábregas and Pedro making way for Thiago Alcántara, David Villa and Alexis Sánchez respectively. But they didn't lose their hunger for goals, and had two efforts ruled out for offside, while Messi hit the crossbar from a free-kick. But by then goals were not important, as they had achieved their objective. They had proved that while Madrid may be able to survive scares like the ones they were given by Real Sociedad, Barça still rule the league with their heavenly football.