LIGA BBVA | ATLÉTICO
Atlético fever continues as 7,000 fans turn out for training
The open-door training session at the Vicente Calderón, ordered by Diego Simeone, was a big success. The Municipal Police took measures similar to those of a match day.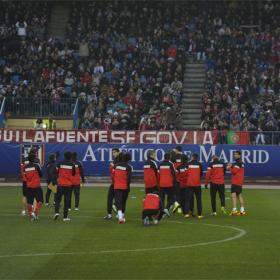 More than 7,000 'rojiblanco' fans cheered on Atlético Madrid in the team's last training session of 2012, which was an open-door affair at the Vicente Calderón. Cholo Simeone took the decision to invite the fans in to bring the team even closer to them. The turnout was comparable to that for the Argentine's first training session as the Atlético boss, which took place on the 29th December 2011.
The municipal police took measures very similar to those employed on match days, despite the fact the occasion was only a training session and it was accompanied by an especially cold Madrid evening.
The five players who were given an extra day away from the team, and who missed Saturday's training session, joined in today - Falcao, Miranda, Diego Costa, Cebolla Rodríguez and Diego Godin.
The fans watched on from one side of the pitch and the shouts of encouragement didn't cease throughout.