LIGA BBVA | ATLÉTICO | SIMEONE
"I was wrong to say the league is boring; it's unequal"
Atlético manager Simeone was speaking to Argentinean website Cancha Llena.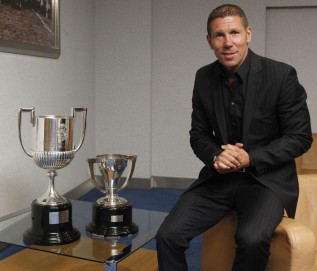 In an interview with Argentine website Canche Llena Atlético Madrid coach Simeone had the following to say:
Boring league: "I was in a hurry and I made a mistake [when I called the Liga boring]. The correct description would be to say that it is unequal. Since 2004, when Valencia were Champions, the title has only gone to Barcelona or Real Madrid. That's an undebateable fact. They win it and the rest are miles behind, but it's not boring. The football is good. I was trying to make the point that the league kills the dreams of fans who hope that one day their team could be champions. The huge budgets of Barcelona and Real Madrid make for a vast difference".
Barcelona champions?: "Sadly... other fans can't dream. Barcelona's current campaign is stunning. I wouldn't say it's impossible to catch them... but, the numbers are what they are, they don't lie".
Best Atlético ever?: "Time will tell, let's see when we can take the long view. Now isn't the time. When I talk about this I prefer to reply that we need to be more competitive every day".
Changes to Barcelona or Madrid: "I'm not in charge at either club; I don't think talking about that is advisable. I'm very happy in charge at Atlético. The squad give me commitment, talent and style".
Collective play: "Atlético is a team, and a team reacts when the individuals are up to the challenge. We need everyone: Godín, Gabi, Arda Turan, Koke, Adrián, Diego Costa, and of course Falcao and the guys out wide, Filipe Luis y Juanfran".
Philosophy: "Football is everything, mind, heart, talent. If you achieve it, you feel indestructible. I'm a believer that emotions can move mountains, that spirit alone can trump budgets".