LIGA BBVA | REAL MADRID
'The Sun': Cristiano set to demand a move in the summer
The forward is still waiting for a new contract, and doesn't feel he has the club's backing. Against this backdrop, a return to Manchester United could be on the cards.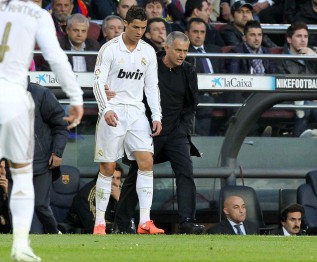 'The Sun' has reported that Real Madrid star Cristiano Ronaldo could be in line for a return to Manchester United. 'Red Devils' manager Sir Alex Ferguson has already indicated that he would be in favour of bringing the Portuguese forward back to Old Trafford; now, the British newspaper has insisted that Cristiano has been waiting for a new contract offer from Madrid for 11 months, and could be prepared to force his way out of the Santiago Bernabéu.
In its report, the tabloid suggested that Real Madrid - who have promised CR7 a new, six-year deal and a significant pay rise - may have left it too late to prevent the Portugal international from exiting the club. In June of next year, Cristiano will have two years left on his current agreement, which includes a buy-out clause valued at one billion Euros. However, if the player tries to push through his departure, Madrid will have no option but to reduce their asking price.
According to 'The Sun', Cristiano has told former team-mates at United of his desire to return to the Premier League outfit, and Real Madrid have already set his price at around 150 million Euros. If the potential savings on his yearly salary are also taken into account, the figure would rise considerably further. "It's better than nothing in 2015 when Ronaldo will be available for free", maintained the British paper.
Despite scoring 171 goals in 170 appearances since his arrival in Spain, Cristiano is said to be frustrated at the Madrid club. He has remained on the same contract throughout his time at Real, while Barcelona's Lionel Messi has renewed his deal six times in seven years. What's more, the forward has not felt fully supported by his employers in his bid to win the FIFA Ballon d'Or - leading to his declarations a few months ago that he felt "sad".
Ferguson has already asserted that "Ronaldo is as good as Messi" and, wrote 'The Sun', could encourage his former charge to force a move. Former Old Trafford club-mate Patrice Evra has also urged him to go back to United to stand any chance of winning the Ballon d'Or.
A further factor that could favour the player's exit is the repealing of the 'Beckham Law', which had allowed Ronaldo to pay only 24% income tax on his salary. Without the legislation, the tax rate applied to the Portugal captain would rise to 52%, forcing Real to raise their forward's wages considerably to maintain his current net income.
Manchester United, on the other hand, netted 183 million Euros in the summer with the sale of 10% of the club on the New York Stock Exchange. Half of this was used by United's owners, the Glazer family, to reduce the club's debt; however, they may also seek a blockbuster signing which would surely unleash unbridled joy among the Old Trafford support.