LIGA BBVA | REAL MADRID | BENZEMA
José Mourinho puts Karim Benzema on notice
The French striker hasn't produced last year's numbers, having scored only three League goals when last year at this date he'd notched seven.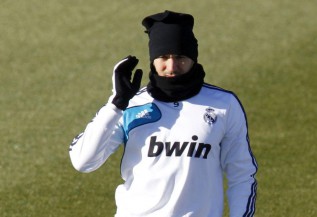 Mourinho fired a warning shot after the cup defeat at the hands of Celta in Balaídos: "In part I'm to blame, but maybe there are players who didn't want to play". No names were given, but in the run up to the Espanyol game the Madrid coach cast doubt on Benzema's injury, that led to him coming off in the 31st minute against Celta with a twisted right ankle: "My idea of a player is someone who only comes off when they can't give anymore, and they then have to miss the next game". Mourinho included the Frenchman in the squad for the game against Espanyol but in the end left him in the stands.
The Frenchman's attitude is setting off alarm bells for the Portuguese coach and reminding him of the Karim he found when he joined the club (a situation that led to him insisting on the signing of Adebayor on loan). This season Higuaín is now effectively out injured until 2013 (he has almost no chance of making the game against Málaga on Saturday) and Mou has therefore made his intentions plain, as he said after the defeat to Celta: "It's better to have Morata, who is immature, but has ambition and who wants to give it his all and to learn, than others who maybe don't want to play games like this one, because it's cold, it's raining, it's the cup..."
Benzema is not reproducing last year's numbers, having only scored three goals in the league, when at this stage last year he had seven. Higuaín, out of service since 6 November has managed the same amount. Mourinho believes Benzema has taken his foot off the gas in the absence of pressure from 'Pipita'.
Best French player 2012
Karim Benzema stars on the front cover of France Football together with Zinedine Zidane. The magazine has chosen the Real Madrid striker as the best French player of the year, handing him the title for the second year running. He raked in 109 votes compared to Ribéry's 102 and Lloris' 62.