LIGA BBVA | MADRID | JUANDE RAMOS
Madrid need a run like Ramos' in 08/09: 52 from 54 points
With Barcelona 12 points ahead in 2008-09 their eternal rivals went on a run, winning 17 games and drawing one, narrowing the difference to four points by the time Barça visited the Bernabéu.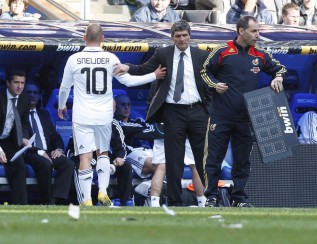 Florentino asked Real Madrid not to give up, and the club already has an example of how to do that. In 2008-2009 Real were 12 points behind Barcelona after the 15th game of the league (in which they were beaten 2-0 at the Camp Nou), just before the end of the first half of season. Juande Ramos had just arrived at the Bernabéu and Real Madrid were looking for a way to stop Barcelona simply walking away with the league.
And they managed it. After that 2-0 defeat to Barcelona they went on a run of 17 victories and a draw, against Atlético Madrid, accumulating nothing less than 52 out of 54 possible points. The run meant they went into the return game against Barcelona only four points behind them, and when they went 1-0 up were theoretically just a single point behind. The wheels came off after that though, in quite spectacular fashion, as Barcelona turned on the style and ran out 2-6 winners. But the work of the team to even ensure the league was still alive at that point was highly worthy of praise, even if in the end Juande Ramos' efforts were overshadowed by the 4-0 defeat to Liverpool and that 2-6 thrashing at the hands of their eternal rivals. There were also four consecutive defeats at the death of the season, but Madrid by that point had dropped their guard.
Guardiola reminded his players of Juande's Madrid last year: "If they want the League, make them win it at the Camp Nou", he told his team in the dressing room. And although Madrid at one point had a 10 point lead, they managed to ensure Madrid had to go to Catalonia to make sure of it. As they did, in style: winning 1-2 in the Camp Nou.
Madrid are currently 13 points behind Barcelona, and need the same kind of near perfect run that they had under Juande Ramos. That, and hope that Barcelona at some point lose the plot, and a heap of points.
Here are the games from that Madrid run:
Matchday 15. Barcelona 2-0 Real Madrid
Matchday 16 Real Madrid 1-0 Valencia
Matchday 17 Real Madrid 1-0 Villarreal
Matchday 18 Mallorca 0-3 Real Madrid
Matchday 19 Real Madrid 3-1 Osasuna
Matchday 20 Real Madrid 1-0 Deportivo
Matchday 21 Numancia 0-2 Real Madrid
Matchday 22 Real Madrid 1-0 Racing
Matchday 23 Sporting 0-4 Real Madrid
Matchday 24 Real Madrid 6-1 Betis
Matchday 25 Espanyol 0-2 Real Madrid
Matchday 26 Real Madrid 1-1 Atlético de Madrid
Matchday 27 Athletic 2-5 Real Madrid
Matchday 28 Real Madrid 3-0 Almería
Matchday 29 Málaga 0-1 Real Madrid
Matchday 30 Real Madrid 2-0 Valladolid
Matchday 31 Recreativo 0-1 Real Madrid
Matchday 32 Real Madrid 3-2 Getafe
Matchday 33 Real Madrid 1-3 Mallorca
Matchday 34 Real Madrid 2-6 Barcelona