LIGA BBVA | REAL MADRID - ESPANYOL
Cristiano could again be centre forward against Espanyol
Without Higuaín and with question marks over Benzema's fitness, Mourinho has the Portuguese and Morata as options to play as a '9'. The only occasion he faced this situation previously, he went with Cristiano.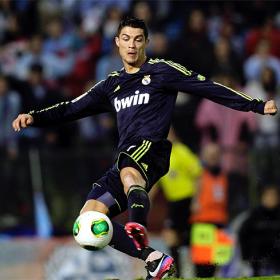 Of all Mourinho's numerous headaches, the most annoying might well be the issue of finding a '9' for this weekend's Liga match against Espanyol (Sunday, 19.00). Real Madrid are without centre-forwards. Benzema got injured at Balaídos, and Higuaín is still recovering from a hamstring injury he picked up at the beginning of November. That's why it's probable that Cristiano Ronaldo could spearhead the attack on Sunday at the Bernabéu, although you wouldn't rule out the option of Álvaro Morata after the team's performance in the Copa last night.
It wouldn't be the first time that Madrid's number '7' has switched his wide position in an emergency to help the team. At the Ciutat de Valencia stadium he did the job superbly, scoring the first goal in a match that was finally won with the help of Morata. He also showed that he doesn't shrink from a challenge, his goal coming after he took Navarro's elbow to his face. The Castilla forward meanwhile saved the three points late in the day with his first Primera División goal, and earnt the coach's confidence. "Morata is young, raw and he has ambition but all the better because he wants to make a mistake" said Mourinho last Wednesday night.
Callejón remains another option, but his position appears to be a wider one. The man from Granada has been delivering the goods and then some whenever called upon, and he seems to have booked his place in the team to face Espanyol. His versatility (in three days he's played in midfield, at full-back and upfront) have catapulted him ahead of other players like Di María. In Vigo he was given the responsibility of replacing Benzema and he played as a forward until Varane got injured, when he had to go back to defence.