LIGA BBVA | REAL MADRID | MOU
Mou: "I don't know if another adventure is waiting for me"
The Real Madrid coach gave an interview to Radio Television Caboverdiana, but didn't give any clues about his potential future.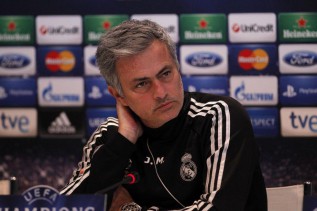 José Mourinho still won't give a definitive answer about his continuing future with Real Madrid. In an interview with Radio Television Caboverdiana, ostensibly to talk about the visit of Portugal coach Lucio Antunes to the Real Madrid training ground to study the Spanish giant's methods, the conversation turned to the possibility of Mourinho leaving. "I've learnt that football isn't an easy place, especially for coaches, and it is difficult to spend many years in the same place", said Mou.
The Portuguese coach continued: "I'm Portuguese; I have a little bit of the explorer in me. I've been in different countries, in different leagues and different cultures. Spain, England, Italy... I don't know if another adventure is waiting for me. To be somewhere I need to be 100% motivated. What I do know is that I'll keep working".
Mourinho also replied to a question about why his players respect him so much. "Footballers talk well about their coach when they play, and they talk badly about him when they don't. I try to maintain a good relationship with them, although there are 22, 23 or 25 in the squad and only 11 can play. I do everything I can to be honest, to respect them all equally, to create a good group from the first to the third keeper, who will hardly ever play. I like strong groups, where the people feel for each other. It makes the work easier".
Mourinho accepted that he has "little social life". "I hardly go to any events. But I'm happy because I have a fantastic family".