LIGA BBVA | BETIS 1 - REAL MADRID 0
Beñat undoes Madrid
Beñat's goal in the 7th minute could leave Madrid 11 points from Barça. Betis reconnects with the Villamarín after the chaos of the local derby. Adrían is the home side's hero. Madrid again suffer dubious refereeing decisions.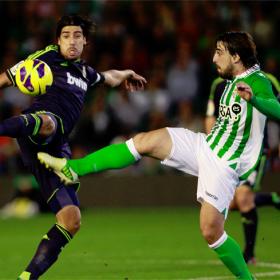 A single goal rarely serves to change so many people's emotions. The Betis faithful, the die-hard 'Madridismo' and the 'culé' Cataluña know what I'm talking about. With his great drive, Beñat allowed Betis to be forgiven after a painful derby, and in the process might just have settled the Liga battle. The ball is in Barça's court, ahead of their match against Levante. Madrid were felled by an unexpected blow at a time in the game when they looked most in charge. But they were also punished for a lack of composure in their finishing, and victim of a spectacular performance from Adrian, the goalkeeper who came apart at the Pizjuán but this time was a wall. Mourinho's team didn't play well, but suffered some dubious refereeing decisions again. Benzema was flagged for a non-existent offside and in injury time at the end of the game Nosa went unpunished for cutting out Kaká's desperate attempt with his hand.
Betis came out with the simple plan of giving their all to reconnect with their people. Exactly what they failed to do against their eternal rivals last weekend. Their vicious start didn't surprise Madrid; in fact Mourinho's men took the sting out of the game with assurance, and began to create chances. Cristiano had the first in a good counter attack and Khedira the second at close-range. The left side looked certain to provide the route to victory, with Ángel not finding any help in Agra. Madrid were dictating play comfortably until Beñat changed the outlook of the match in an isolated move. Di María, with his liking for lending a hand in defence, cleared a ball to the centre from Arbeloa's area. His punt fell at the feet of Beñat who, without thinking about it, beat Khedira a few metres from the area and shot low and hard, his effort flashing past Casillas.
It was just the inspiration Betis needed to survive the flames that were licking at them. Madrid were shaken, and they showed a lack of patience in response. Copying their opponents' plan of attacking directly and at full-throttle was a mistake, because it just served to level the amount of errors being made. With all the slips in the creation of play, it seemed like Özil was on strike. The German only started to have an impact when Mourinho had Kaká and Modric come off the bench and start warming up. The team suffered from his inconsistency and misjudgement.
Mourinho tried to make amends with two changes at half-time: this time it was Modric and Kaká on for Khedira and Özil. And although it was something of an improvement, the coach punished the team with Mesut's exit, when his goal was to do that with the player alone. With space opening up and Betis wearing out, Özil was the perfect man to set Cristiano and Benzema loose. Both demanded balls. On one of the few occasions that they got into scoring positions, Benzema saw his goal ruled out unfairly for offside; in another, Cristiano's firm shot was deflected skyward by Adrián and Ángel.
Betis meanwhile worked hard on the right flank and as a threat to Madrid put on another forward next to Rubén Castro to try to take advantage of the visitor's rush for an equalizer. The Villamarín provided the puff that its players were lacking, and Jorge Molina helped in that task with his skill at holding balls up, letting his teammates catch a breath. The Betis defence, outstanding all night, bore the onslaught and attempted to mount counter attacks. The chances came thick and fast in both areas. Kaká's whipped shot. Salva Sevilla with his left. Pepe's header. A ferocious drive from Rubén Castro. Benzema with another great header. Betis knew that Madrid are one of the few teams that can turn a scoreline round in the blink of an eye. But they resisted and found the prize, after considerable suffering. The punishment was as harsh as the one that Madrid will now have to bear.