LIGA BBVA | REAL MADRID
"Cristiano and I hardly have a relationship off the field"
The Real Madrid midfielder Xabi Alonso talked about his relationship with Cristiano Ronaldo and his past in Cataluña in an interview on ETB.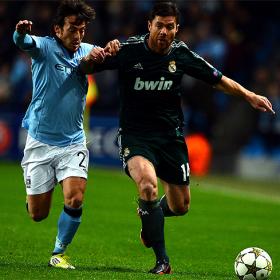 "I'm learning a lot from Mourinho, as a coach and a professional. He's very demanding and pays attention to all the details. But as well as that, he's a person who communicates a lot. People only know the image they see of him, his exterior. I know him in a different way; from the inside - and that's why everyone is surprised when I say these things", said Real Madrid's midfielder Xabi Alonso on the programme Bisitaria, on the Basque television channel ETB.
On Cristiano Ronaldo: "He's a player I don't have a relationship with off the field. He's a very ambitious person, with a very strong personality and high self-esteem. He also says things as they are and how he feels them; he doesn't try to dress things up. Anyway, he's a very important player to the side and in the dressing room my relationship with him is good. There's appreciation and professional respect between he and I. Of course not everyone in the dressingm room is my friend and outside there's hardly a relationship between us. But here we get on well. Cristiano isn't a prima donna with us."
On Barça and his father (He played for them for three seasons and the Madrid player lived in Cataluña until the age of seven): "Barcelona have always had a special place in his heart although now... (laughs). Now other things have come into the mix and well... (laughs)." He did seem to be destined to end up at Barça, something he denied: "My father always said to me, 'Xabi, I had my career and now you have yours.' But being totally honest, I've always been much closer to playing for Real Madrid than for Barça. Before going to Liverpool I was very near to signing for Madrid. On the other hand I've never had an offer to go to Barcelona."