REAL MADRID | CRISTIANO RONALDO INTERVIEW
"Some think Messi is better than me because of my image"
"One day I would like to sit with the people who think I am arrogant and have a chat to see why they think that. You know, to have a chat, in a nice place and for them to get to know me."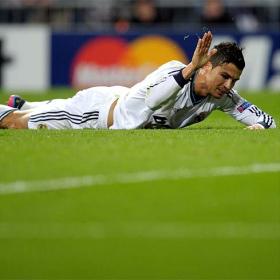 Cristiano Ronaldo has revealed he thinks he is not as appreciated as Leo Messi because of his negative public image.
Messi has beaten Ronaldo to the FIFA Ballon d'Or for the past three years and the pair will go head to head for the award once again in January, with the other principal candidates Xavi Hernández, Andrés Iniesta and Radamel Falcao.
In an interview with Portuguese journalist Pedro Pinto for CNN, Ronaldo agreed that the image people have of his personality may have cost him several awards, such as the Ballon d'Or.
"I don't want to cry about it, but sometimes I think yes. It's a question to which I never give the 100% right answer, because sometimes I really don't know. I don't think it's allowed for people to change my personality. Maybe sometimes, I agree that I have a bad image on the pitch because I'm too serious."
The Real Madrid forward also believes this image has been created by the press, and is quite different to what he is really like as a person.
"I learn by my mistakes and that's life. You know, sometimes I'm a victim of that because they don't know the real Cristiano.
"But if you really know me, if you are my friend and I leave you inside my house and you share the day with me, you will know I hate to lose. But, this is part of the life. This is me."
He also defended himself against those who call him "arrogant".
"I'm a competitive man and sometimes people interpret that in a different way, which is a pain on me because I don't like it, but I have to live. People who call me arrogant, I'm interested, not with all of them, but most of them. One day I would like to sit with them and have a chat to see in which way they think I'm arrogant. You know, to have a chat, in a nice place and for them to get to know me, you understand?
"Because I think they need to sit with me to know who the real Cristiano is."