CHAMPIONS LEAGUE | CELTIC 2-1 BARCELONA
Barca's style of football dealt a hammer blow at Parkhead
Celtic pulled off one of the most astonishing results in the Champions League this season by beating Barcelona 2-1 in a tense game at Celtic Park.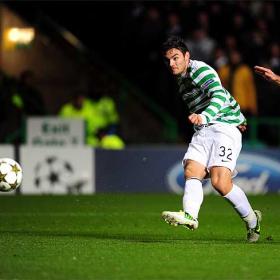 The first defeat in a competitive game of Tito Vilanova's reign as coach of Barcelona had to come at some point. After all, no coach is immune to defeat.
After falling to Real Madrid in the second leg of this year's Supercopa de España, Barcelona finally slipped up after two whole month's without tasting defeat in any competition. But defeat came against the most unlikely opposition and in the cruellest manner. Barcelona dominated the game at Parkhead, hit the woodwork on two occasions and gave away two unforgivable goals. The first goal, a header by Victor Wanyama from a corner, came on 20 minutes, while the second came from a Celtic goal kick and an awful mix up between Xavi and Javier Mascherano allowed Tony Watt to race into space all alone and fire past Victor Valdes to double the hosts' lead.
Leo Messi's goal in injury time made for a tense finish but Celtic survived the surge to pull off a memorable victory to mark the week of the125th year anniversary since the club was formed
The defeat will have little effect on their ambitions to qualify for the next round, as they still lead Group G, with 9 points, two ahead of Celtic, on 7. But what will hurt more is the damage it will do to Barça's pride and their image, as it shows that Barça's fantastic brand of football is not the only way to win a match.
It was an enthralling fight between two different schools of football, similar to what has happened in the last few Clásicos. Neither team's style of football is necessarily more dignified than the other's: one is direct, the other more elaborate, but both can lead you to victory. There is one difference, however. Celtic's style of football is primitive, but today got them the result they wanted. Barcelona's football is far more romantic and is the key to their recent success, and they do not want to renounce it.
But at times they suffer due to their insistence of playing football the right way, and run out of options when they exhaust their usual ones. They also ignore their weaknesses.
Barça's beautiful passing game does not impede them from being strong in the air, but in the Champions League it is no use just playing marvellous football, as you will be punished for your weaknesses. Celtic made them suffer in the Camp Nou in the air and on this cold night had them on the ropes again. For the opening goal Dani Alves and Jordi Alba were both defending the far post as part of the zonal marking system, allowing Wanyama to ghost in and head the ball past Valdes with ease.
Before the goal, Celtic had not launched a single attack, but that was never their objective. Instead, they sought to pounce from corners. Barça, on the other hand, did everything they could to take the lead. 87% possession would normally guarantee victory in any other sport, but in football you are nothing without goals, and Celtic, giving a lesson in organisation and self belief, mounted a watertight defence which let nothing through.