CHAMPIONS LEAGUE | REAL MADRID 2 - DORTMUND 2
Özil strikes late on to save Madrid's blushes
An 89th minute free kick avoided a disastrous defeat for Madrid that would have left them in some trouble in Group D.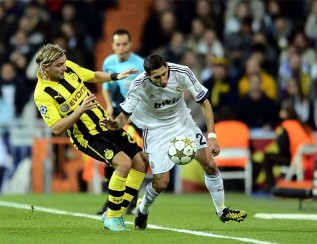 Once again, epic at the death. Faced with a lack of ideas and solutions to their problems Madrid saved their blushes at the very end, to cover up what was in reality a worrying result. A miraculous 2-2 leaves Madrid's successful exit from Group D in their own hands. Özil was the hero, with a subtle direct free kick that will let Madrid sleep easier tonight after a rough evening against a tough opponent who were lethal on the break. The end result was fair, and possibly harsh on the hosts, looking at the whole match. But for those who saw the first half Madrid's achievement was heroic. Dortmund didn't just know how to make Madrid sweat, they made them suffer and they made them pray.
The opening forty five minutes was a hammer blow to Madrid's morale. Far more than the slender 2-1 lead Dortmund took in at half time would suggest. Sacking fortress Bernabeu is far from common, but the Germans, like Barça have done in their recent era and Bayern did some months ago, imposed their young, electric rhythm. Their pressure in defence was commendable during the first 25 minutes. And their set up was worth studying. Lewandowski up front was their first defender, and when they were in possession, their main threat. He broke up play, and was the first to run on their accelerated breaks. Madrid were stunned. The situation called for tactical solutions in the face of a lack of inspiration from Cristiano and the snail like pace of Higuaín. They weren't forthcoming. A ball in from Schmelzer and a raging attack from Reus made Madrid fear the worst. And then Dortmund scored.
Three goals before half-time
Lewandowski sent a ball forward looking for Reus, who in turn was shaking off his marker Arbeloa. The ball bounced and the German jewel's hammer strike powered through Casillas weak hand, when it would have needed granite to stop it. Mourinho changed nothing; only asking for more width from his wings. As always the plan was to let the talent flow. The problem is that football isn't mathematics, and furthermore, Dortmund's defence weren't in the mood for such ideas. A better strategy or a flash of brilliance were the only means of escape. And it was from the latter that the draw arrived. After a corner and a session of pinball in and around the box, the ball fell to Özil, who chipped in a ball from the left which Pepe met at full gallop, with all the strength a neck can give. The boost Madrid needed, and divine contemplating the overall situation.
Dortmund had already lost some of their vim and vigour, as well as their structure. The draw failed to help them, but they had a plan, and they repeated it until it bore fruit. Their recovery came from midfield, where they were given an advantage by Modric's bad governance. Up front they continued to seek their lighthouse. Lewandowski beat his defender again, and got the ball into Götze who, from a metre out, and with skill, balance, luck and Arbeloa's help put the ball past Casillas. The blow came on the stroke of half time, and it could be argued it was deserved.
Dortmund fade away
The restart brought out a different Madrid. The version reserved for European problems. Like the night against Manchester City. With Essien on for the inexperienced Modric, with Callejon for the injured Higuaín, and with Cristiano as a pure 9. Speed and self love shoved Dortmund back into their cave. Callejón did more in 15 minutes than Higuaín had done all night. First he scored a perfectly legal goal that was incorrectly ruled out for offside after a pass through the defensive line from Di María. Just after he failed to convert two chances in behind the centre backs. It looked as if Madrid were turning themselves into their usual European hurricane, until all of a sudden they surprisingly blew themselves out. They lacked agitators, disruptors. Kaká for Arbeloa was Mou's answer faced with a lack of strikers on the bench. Klopp responded by trying to contain his rivals, given his lack of gas.
The consequences of these changes, of players and of attitudes was felt most keenly in the Dortmund box. Ronaldo could have equalised, latching on to a great pass from Di María. A great bit of play in which Hummels was guilty of being soft and in which Kaká claimed for a penalty. With 10 minutes left people started to look at what was still required to do in the group. There's a visit to Manchester to come for Real Madrid. The hosts now pushed as never before, and deserved to draw level with a shot on the turn from Callejón, which Grosskreutz cleared off the line. Dortmund were nothing like the team that had started. They were on their death bed after so much effort, at the mercy of their rivals. Cristiano continued to lack precision, and so, with a free kick for Madrid outside the Dortmund box, the Portuguese striker handed the ball to Özil. The German, with lethal precision, but notable lack of power, put the strike just inside the post. Pure quality. The result didn't lift Madrid into top spot, but it took them away from a very unexpected scare.