MILAN | PEP GUARDIOLA
Pep's brother and Estiarte meet with Galliani in Milan
'La Gazzetta dello Sport' claims that the meeting took place this afternoon and speculates that it may be the start of negotiations that would take the ex-Barça coach to Milan in June 2013.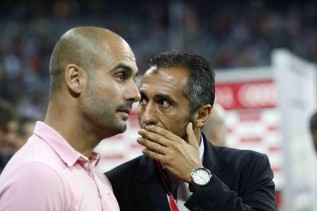 The chief executive of Milan, Adriano Galliani, met this afternoon in Milan with Pere Guardiola, Pep's brother, and Manel Estiarte, his advisor and colleague during their time at Barcelona, according to 'La Gazzetta dello Sport'. The newspaper continues to claim that the meeting took place despite the fact the Italian club later denied the original reports.
A month ago there were rumours about possible contacts between Guardiola and Milan, with the word on the street claiming that Berlusconi had given the all clear for Galliani to travel to New York to meet with the coach and reach an agreement for the future. Guardiola had said that he intended to take a year away from football, and that he wouldn't train until next season.
Galliani, as well as Pere Guardiola and Estiarte were planning to go to the Milan-Malaga Champions League game tonight. 'La Gazzetta' claimed that their joint presence was a good excuse to start negotiations that would likely be extended. They have until June 2013.