LEO MESSI
Leo Messi: "Everyone at Barça notices Guardiola's absence"
"He was with us for so many years and we won so much with him. But now Tito is in charge and we hope to continue winning things."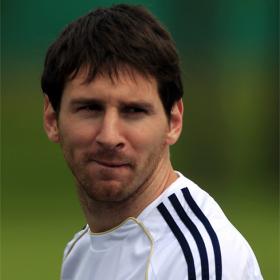 Leo Messi gave an interview to radio station Radio del Plata from Argentina, where he has been training with 'La Albiceleste' ahead of their World Cup qualifiers against Uruguay and Chile.
Messi admitted he and his Barcelona team-mates still miss Pep Guardiola, who left the club last May, and spoke about a number of subjects, including the prospect of becoming a father.
El Clásico: "We have played them so many times that now we know how each other plays so the games are always very tight. They had the better of the first half and I think we were better in the second. In the end no-one could win but these games are always beautiful to play in, and I hope everyone watching enjoyed the game."
On Guardiola: "We all notice he has gone. He was with us for so many years and we won so much with him. But now Tito is in charge and we hope to continue winning things."
The race to qualify for the World Cup: "We are first in the group but we are only a couple of points clear. Lose one game and then you slip behind. Positive results relax the team, but we have two difficult games coming up. First we have to think about the game with Uruguay, who will be very difficult opponents who we have known about for some time. In the last four years they have proved that they are a quality side."
Falcao: "He is an amazing player. He's very good with his feet and he's a beast in the air, and has an incredible ability to score goals. I think that the arrival of José Pekerman as Colombia coach was good for him, and now he's reaping the awards, and that's why Colombia are up there."
Atmosphere in the Argentina team: "We're enjoying playing together, we know the style and manner in which Alejandro [Sabella, Argentina coach] wants us to play in. The group are getting stronger and things are going to plan. I always love playing for Argentina, and wearing the captain's armband for me is not an extra weight on my shoulder, it encourages me to do better for myself and for my team."
"I've had some tough experiences with Argentina, such as when we were knocked out of the World Cups and the Copa America, but now we are getting results and this is making the group stronger, and we need to keep getting these good results."
On his free-kicks: "I was always told that if you want to take good free-kicks you need to practice them. I always stay after training to practice my shooting, I don't just take free-kicks. I had to improve my accuracy from free-kicks and now it's starting to pay off."
On becoming a father: "It's going to be a great responsibility to change my son's nappies. I'm very anxious about his arrival, especially as I'm out here with the national team and I know he could be born at any moment. I haven't bought him a ball yet, that'll wait until he's a bit older. He's going to be a Barcelona fan, of course."
The footballer he looks up to most: "Pablo Aimar, he's a player I have always liked."