ATHLETIC BILBAO | BIELSA'S TEAM-TALK
Bielsa to his players: "You're premature millionaires"
The newspaper Deia releases the first part of Bielsa's team-talk to his players after the final of the Copa del Rey against Barcelona.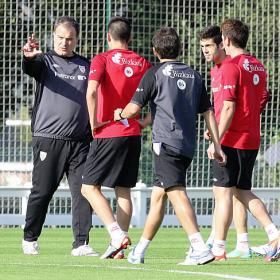 The Basque newspaper Deia released today the first eight minutes of Marcelo Bielsa's team-talk to his Athletic players, given on the 26th May, the day after the team's Copa del Rey final defeat at the hands of Barcelona.
It's a monologue in which the coach blames himself for the defeats in the two finals.He nevertheless criticises the performances of his players, some of whose names were censored, and accuses them of "letting down a people."
"In the next few days myself and the club will decide if I'll continue to work here at Athletic next season. The holidays are about to start and I don't know if I'll see you again. If I do continue, I'll contact you to arrange everything about dates. Or maybe I won't, if the club and I decide I'm not to be the next coach. I want to wish you well. Perhaps it's only until the pre-season, or perhaps I won't see you again."
"To sum it up it was a season that ended very badly, terribly. We can't ignore how it finished. It would be deceiving ourselves to focus on the progress because the close was so bad, it truly was very bad. I see myself as completely responsible for how we finished. We played a great match against Portugal, and from there on it was all negative."
Names
"Yesterday's match confirmed it from my point of view, because the players represent my way of thinking, my way of feeling football. I think of the cases of De Marcos, Amorebieta, Susaeta, Muniain, who is a guy that I'm on the same wavelength as; they weren't up to the challenge. In a group of 20, there are players that do the things the coach wants, and players that do different things. But everybody is useful and between us we made a huge effort to achieve the big things we acheieved. But, lads, we couldn't match the expectation we created. It's a scar, a wound; I heard conversations, people laughing yesterday..."
"We let people down"
"I think it's unforgivable, lads, to get people's hopes up and let people down, not being able to match the expectation you create. Because I'm truly ashamed to have let down the Athletic Bilbao fans. Don't lose sight of that fact, lads: we let them down. It's a real failure and it's a negative season. You play two finals, you can lose them - not only 3-0, but 5-0. You can lose them, no problem. But losing those two finals in the way we lost them, boys! I really don't know how you see it. If the game against Atlético Madrid was bad, yesterday's was much worse. And when I tell them I'm responsible, we play the match against Barcelona knowing what Barcelona would throw at us, knowing what kind of game we had to neutralize; they didn't surprise us at all. Everything we thought would happen, and we prepared for, is what happened."
"You trained like animals"
"So, how am I not going to feel responsible? How am I not going to feel responsible when the guys who most faithfully represent my idea are the ones who had the least to offer to the team's shape and movement? I don't know if you understand what I'm trying to say. You can apportion blame saying 'no, it was this, or no, it was that; no, the other thing; no, they didn't pay attention; no, we didn't prepare.' No boys, none of that. You trained for ten days like animals, you obeyed and gave yourself up to everything I asked you to, to everything I was hoping to do to ensure the differences weren't what they were."
"I'm ashamed"
"So, be clear about this lads, be very clear and don't take it as a joke: I'm responsible and that's how I feel. I'm sorry in that way, but you can't ignore the fact that you can't let people down, especially such loyal people, so loyal that you can be losing 3-0 with an open wound and you give them the smallest thing to cheer about and they applaud you in the 80th minute. They're extraordinary fans, boys, so extraordinary, so extraordinary... and you are an extension of those people. You are those people. You are the same type of people we're talking about. Extraordinary people, but regrettably, lads, we weren't up to the task. I'm ashamed, embarrassed, because having played the match we did against Sporting Lisbon... And from there on, when all the targets had been reached, when what we had to do was show greatness, strength, personality, self-confidence... reinforce everything we had done; we did the complete opposite."
"We didn't play to win"
"When I tell you that I feel responsible, I wouldn't feel like that if I had led a group that hadn't listened, that hadn't felt, that hadn't been convincing, that had cracks... but it was the opposite. And the ones that didn't play, boys, the Zuabiaurres, the Koikilis, the Aitor Ocios; guys who could have given their all. Everybody was lined up behind this project I was proposing. I don't have to give anyone a refund, but for the good of you, for your futures, I have to tell you this: you've let down people who didn't deserve it and it's not necessary to come out champions to not let people down. I'm clear about it. What was required was, instead of being scared about losing, playing to win. We didn't play to win. We didn't play to win yesterday and we didn't play to win against Atlético. Because to play, and to win, lads, one has to do what one planned to do, knowing that this would give you the chance to triumph. And we didn't do that."
"You're premature millionaires"
"Now that's all in the past. Now there are no matches to think about, nothing to analyze, no heads to put in order, no messages to give. The opportunity has passed us. And I'm aware that you're very young. You're very young and you're premature millionaires; you have no problems, it doesn't matter to you too much what happens because everybody has taken care of that. You can allow yourselves to laugh...", concluded Bielsa.