BARCELONA | LIONEL MESSI
Messi now the second highest paid footballer in the world
A little-known clause in the players contract means he earns a bonus every time Barcelona win a trophy, taking his annual pay to around 18 million euros.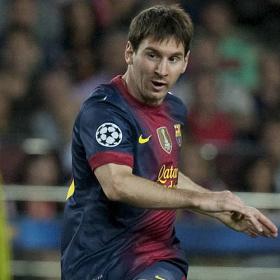 Leo Messi is now the second highest paid footballer in the world, just one place behind his former Barcelona team-mate Samuel Eto'o.
Messi does not just help Barcelona win titles, he also helps the club line its pockets every time he wows crowds and television audiences with his magical left foot.
Messi has a clause in his contract which sees him earn an extra amount of money every time he wins a trophy. 'La Pulga' won 14 trophies under Pep Guardiola, which saw his his income rocket to around 18 million euros per season.
Sources consulted by AS confirmed the figure and revealed that when Messi is offered his new contract, which will be the sixth time he has renewed his deal with the club since 2005, he will be offered even bigger bonuses.
Therefore, it will be up to Messi to see if he can overtake the amount which Anzhi offered Samuel Eto'o to swap Inter Milan for the south of Russia and, at 25 years old, become the footballer with the highest salary in the world (not including income from endorsements and advertising, which would take his total salary to over 33 million euros per year).
"Messi earns what he generates for the club on the pitch," insist Barça employees, who are aware that the forward is an invaluable asset to the club and that only an insane amount of money would be able to prise him away, given that his buy-out clause is 250 million euros.
Right now, Messi is very relaxed. The only thing that worries him is whether or not Tito Vilanova's Barcelona team can achieve as much as they did under Pep Guardiola. Everyone knows how important he is but Messi does not shy away from his responsibilities. After all, he knows how much he gets paid.