REAL MADRID
Man City offered 200 million for Cristiano this summer
Mendes brought the offer to Madrid. The player has an astronomical contract clause worth a billion.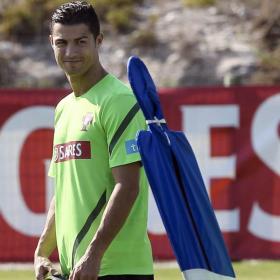 Manchester City are willing and ready to help Cristiano get his happiness back, and the English club have already made a 200 million-euro offer for the Portuguese. They got the offer to Florentino Pérez through the player's agent, Jorge Mendes. The president of the Spanish club turned it down, however. City also want to make Cristiano into the world's best-paid footballer, with a salary that would be around 20 million euros.
This is not the first time that City's owner, the sheikh Mansour, has tried to sign Cristiano. Last year he made on offer of 180 million for him. But in both cases he's received a negative response from Real Madrid, who have pointed to the player's astronomical contract clause of 1000 million. At the moment, the staff at the Bernabéu are only interested in finding a way to cheer up their star player, and don't even want to hear talk of possible offers.
Florentino and the sheikh would be able to have a brief meeting when their clubs meet at the Bernabéu, for a Champions League match on September 18th. And the 21st November is the date when fans of the Citizens will be able to see Cristiano play at the Etihad Stadium. This meeting has the added pull of seeing Cristiano face the team that were his main rivals during his time at Manchester United.
Fair Play
Sheikh Mansour believes that Cristiano's mood could help him fulfill his dream of seeing the Portuguese at City. The club owner also wants to make a move before the 2014-15 season, when FIFA's Financial Fair Play rules will prevent clubs spending more than they invest.
Whatever happens, Madrid will not let go of their main man, in a sports as well as a business sense. When the internationals come back, Florentino and Mourinho will meet Cristiano and try to find solutions to his grievances.
Mou is another of the sheikh's dreams
Cristiano isn't the only dream of sheikh Mansour. The richest man in the Premier League would also like to see Mourinho on the touchline for his team. Despite Mancini's good work, he won't stop until the Portuguese man is Manchester City's manager. Last season, when there was speculation that Mourinho would leave Madrid, the sheikh sent an offer to Jorge Mendes to try and tempt the coach. In the end though, Mou renewed his deal with the Spanish giants.