EUROPEAN SUPER CUP | ATLÉTICO MADRID
Atlético Madrid fan clubs motivate the team with a video
The Linkin Park song Iridescent soundtracks a video that Atlético fan clubs have made to inspire the team for their European Super Cup final against Chelsea.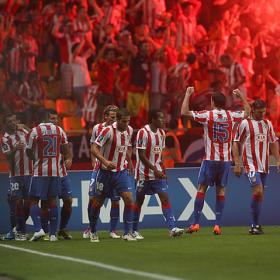 Atlético Madrid will be joined in Monaco by 6,000 fans who'll cheer on their team throughout their clash against Chelsea. The level of support they'll have with them will start to register with the players today. A group of Atlético fan clubs will deliver a video to the captains which will serve to encourage them ahead of their European Super Cup final match. To a soundtrack of Linkin Park with their song 'Iridescent', the video features a mix of images from the recent history of the club.
The lyrics of the song speak of there always being something to cling on to in difficult and desperate moments in life. The pictures show 'rojiblanco' supporters crying when the team was relegated at the Carlos Tartiere in 2000, and more difficult times including the lost Copa final against Sevilla. But they also feature glorious moments from those three recent title victories, the two Europa Leagues and the European Super Cup. Atlético, despite touching bottom, always find the faith to move forward, to re-build, and be a great team in Spain and Europe.
The fan clubs want to move the squad before the all-or-nothing match on the 31st. The new players - Emre, Cata Díaz and Cristian Rodríguez, and even home-grown players like Óliver and Kader, will soak up all that the name of the club stands for. The message that the supporters want to transmit is clear: it can be won or lost, but Chelsea will have to work their socks off to take this European title. Fernando Torres, an opponent this time, will know that well.