LIGA BBVA | REAL MADRID | SAHIN
Sahin's loan move is expected to be confirmed this week
The Turkey international will play for a Premiership side next season, with Arsenal the favourites to secure his services. The deal will happen whether or not Modric joins 'los blancos'.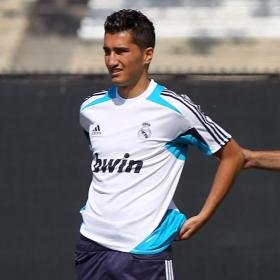 Nuri Sahin is expected to complete a loan move to the Premiership this week. Arsenal are the club that have shown the most interest in the Turk, who last month did not travel with Madrid to their friendly against Benfica in Lisbon because he was negotiating the move with representatives from Madrid and Arsenal. Negotiations did not go as planned, and Sahin travelled with his team-mates to the United States for their pre-season tour. However, Wenger has maintained his interest in Sahin nonetheless. The player's agent, Reza Fazeli, meanwhile revealed "there are many clubs who are interested in him, we'll just have to wait and see".
Sahin's loan deal does not depend on whether or not Madrid sign Luka Modric, even though Spurs are one of the clubs who have been knocking at Sahin's door. Sahin will go on loan regardless if the Croatian joins Madrid (at the moment, it looks as if he will).
Mourinho wants Sahin to get more matches under his belt, something he cannot guarantee at Real Madrid due to his level of fitness and mental state. Before the game with Benfica Mourinho said: "I want to be honest. Sahin is in a grey area because the transfer window is open. It'll be for the best if he goes to another club and has a chance to play more games."
It's clear that Mourinho does not want Sahin in his team next season, so much so that during the tour of the USA he played him at left-back in training and in matches as opposed to in central midfield, his usual and preferred position and the one in which he won player of the season with Borussia Dortmund in 2011/11.
Sahin does not want to leave Real Madrid, even on loan, and has made this clear to the club. However, he also knows he may have to accept Madrid's decision to let him go for a season or two. Sahin was bought as cover for Xavi Alonso but last season only played in 10 games due to injury.