LIGA BBVA | REAL MADRID
Real Madrid will not sell Kaká for less than 25 million euros
Madrid don't want a hole in their budget for the upcoming season and won't let Kaká, who cost the club 67 million euros in 2009, leave on the cheap.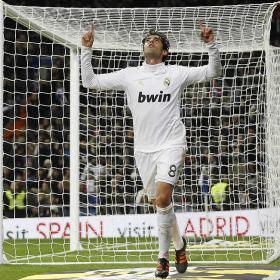 Real Madrid's directors have announced that they won't let Kaká leave the Santiago Bernabéu for less than 25 million euros.
Madrid don't want to have a decreased budget for the 2012/13 season, and even though some clubs appear to be ready to match the Brazilians wage demands, 9 million euros per year after tax, they will not accept lower offers.
Madrid signed Kaká for 67 million euros from AC Milan in 2009, but still owe Milan half of the transfer fee.
In his three seasons at the Santiago Bernabéu, Kaká has never recaptured the form he showed in 2007 with AC Milan, when he was named FIFA World Player of the year. After PSG recently pulled out of the race to sign the Brazilian, with director of football and former Brazil international Leonardo declaring that Kaká "was no longer a priority" Madrid want to send a clear message to the other clubs chasing his signature that he will not be sold on the cheap.
Chinese outfit Guangzhou appear to be the club that are most capable of paying the transfer fee, as they are believed to be willing to offer the player 18 million euros per season. Other clubs that have expressed interest in signing Kaká are Sao Paulo and New York Red Bulls, but neither club will be able to afford his wages or his transfer fee at the moment.
Kaká has only played 39% of games in his three years at Real Madrid and his spell at the club is in danger of tarnishing his career, as he has failed to impress at one of the biggest clubs in the world. But the club's directors aren't ready to let him go for less than 25 million euros, and they know that if he does stay on for another season, hecan help the club earn money on the pitch even if he does not perform well on it.
Despite his below par performances, Kaká remain a very profitable player, and still sells more shirts in China than both Cristiano Ronaldo and Lionel Messi.