REAL MADRID | CRISTIANO RONALDO
Cristiano Ronaldo funds cancer treatment for 9-year-old boy
The Portugese forward and his agent, Jorge Mendes, are financing the boy's treatment in a private clinic in Madrid, above all paying for expensive, personalised medication from the United States.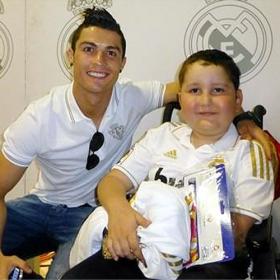 Cristiano Ronaldo and his agent Jorge Mendes could save the life of a nine-year-old boy with cancer.
Nuhazet, from Las Palmas, has had the illness for two years and one month ago doctors told his parents there was nothing they could do to cure him. The family flew to Madrid to realise one of Nuhazet's dreams - see a Real Madrid match at the Santiago Bernabéu.
They met Ronaldo and Mendes at the game and the pair decided to fund the boy's treatment in a private hospital in Madrid.
"In the hospital they gave us three options: do nothing, carry out experimental tests or send a biopsy to the United States so they could produce personalised medication," said Nuhazet's father.
The hospital informed the familyof the price of the medication and the following day the hospital received a bank transfer from Ronaldo and Mendes to cover the cost.
The family are now waiting for the specialist medication to arrive from the United States, which they hope will be able to save Nuhazet's life.