FC BARCELONA
Judge throws out Messi's appeal on alleged tax offences
Investigating magistrate rules that Argentina captain could have been aware of the financial activities of his father.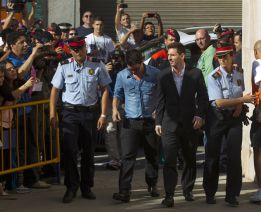 A magistrate in Gavà, Barcelona, has thrown out the appeal of Lionel Messi against his naming as a suspect in three cases of alleged tax fraud on the basis that the Argentina captain could have been aware of the activities of his father, Jorge Horacio Messi, who acts as the player's representative and manages all of his financial affairs.
The judge has also rejected Messi's request to have Alfonso Nebot, lawyer Angel Juárez and FC Barcelona's director of marketing and commercial activities, Raúl Sanllehí, called as witnesses. The judge ruled that their testimony would not "be pertinent."
Despite support from the public prosecutor's office for the appeal presented by Messi on the basis that it believes that there is no evidence of wrongdoing on the part of the player, and which requested "the dismissal of proceedings to that effect," the public prosecutor challenged the appeal and the judge ruled that it is a "subjective opinion" that Messi "was on the periphery of the financial, contractual and tax management of his income," despite his father's control over those matters.