BARCELONA | SUÁREZ
Luis Suárez joins Barcelona for 81 million euros
"Barcelona and Liverpool have reached an agreement for the transfer of Luis Suárez" says Barcelona's website. He will have his medical next week before being presented.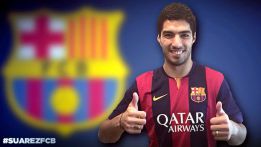 Barcelona have officially announced the signing of Uruguayan striker Luis Suárez from English side Liverpool. The Catalan club's website made the following statement: "FC Barcelona and Liverpool FC have reached an agreement for the transfer of Luis Suárez. The Uruguayan will be travelling to Barcelona next week for a medical, to sign his five-year contract and to be officially presented to the media and fans as an FC Barcelona player".
The announcement makes no mention of the fact the player is banned from all football related activities until late October, for biting Italian player Chiellini in the World Cup.
The price paid is 81 million euros. Barcelona plan to reveal the official figures next Wednesday. The player's release clause was 100 million euros, meaning the club achieved a 19 million euro reduction over that.
Liverpool also confirmed the transfer on their website: ""We would like to thank Luis for his contribution and the role he played in helping bring Champions League football back to Anfield. Everyone at Liverpool Football Club wishes Luis and his family well for the future."
The price paid for the player is, according to sources, between 75 and 80 million, though it is thought to be closer to 75 million.