REAL MADRID
Falcao discards Premier League move and awaits Madrid's call
The Colombian striker has rejected a number of offers from the Premier League; he has told his agent that he wants to leave Monaco and join Madrid.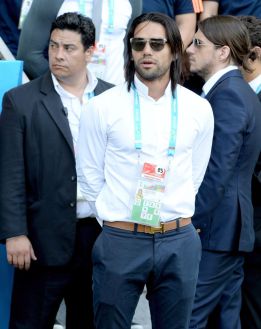 Carlo Ancelotti has acknowledged the need to sign a striker for the new campaign and while the word from the boardroom is to bring in a young centre-forward to replace Álvaro Morata, the incorporation of Radamel Falcao is another option.
Falcao has turned down a host of offers from the Barclays Premier League and, as AS understands, has told his agent Jorge Mendes that his objective is to realize his dream and sign for Madrid. The player knows that Madrid need another striker to compliment Karim Benzema and is now waiting for a phone call from the capital side.
The 28-year-old Colombian, who is under contract with Monaco until 2018, has rebuffed offers from Chelsea (who have chosen Diego Costa), Manchester City and Tottenham Hotspur. Liverpool have made enquiries only as a safeguard in case Luis Suárez in lured away from Anfield over the summer.
Falcao has been given the medical all-clear after making a full recovery from the ruptured cruciate ligament injury he suffered back in January. He has spent the first few months of the year in Madrid undergoing a rehabilitation programme with specialist physiotherapist Joaquín Juan.