SEVILLA | IVAN RAKITIC
Rakitic on verge of signing for Barcelona
Catalan club close to securing Croatia international for 20 million euros.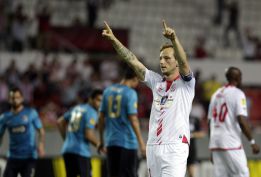 Ivan Rakitic, Sevilla's Croatia international midfielder, is close to signing a five-year deal with Barcelona. Following several weeks of negotiations, the Camp Nou hierarchy is working to seal a definitive agreement, club sources told AS. Other reports state that a deal has already been put in place and that Rakitic will become a Barcelona player for a fee of 20 million euros.
A player with an exquisite touch and physical power, Rakitic has been on Barcelona's radar for some time. Real Madrid and Atlético have also expressed an interest in signing Sevilla's captain but Rakitic, advised by his brother and father, has decided to play at Camp Nou. Barcelona had been attempting to sign Atlético midfielder Koke but the impossibility of negotiating a reduction in the Spain international's release clause led to the club settling on Rakitic as a summer reinforcement.
Gerard Piqué's slip of the tongue in Washington earlier this week, where he told Vicente del Bosque that Cesc Fàbregas had already been sold for 33 million euros, caused consternation among the Barcelona directors, who had been hoping to spark a bidding war for the midfielder. With the arrival of Rakitic, it appears inevitable that Fàbregas will leave after three seasons at Camp Nou, with a return to the Premier League his most likely destination.