REAL MADRID - ATLÉTICO MADRID
Madrid to Lisbon: 15,000 cars and 600 buses
Most of the fans from the Spanish capital are travelling by road to the Champions League Final.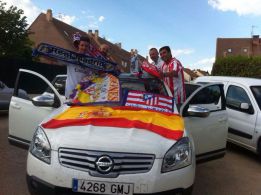 Operation 'Destination Lisbon' gets properly underway today, with Spanish traffic authorities expecting 15,000 cars and 600 buses (around 90,000 people) to travel the 628 kilometres between the Spanish and Portuguese capitals between today and tomorrow for the Champions League final between Real Madrid and Atlético Madrid tomorrow evening.
Most of the journeys are expected to take place between 4am and 10am tomorrow morning. While there will be a special security operation out in force on the main A5 route to Lisbon, Federico Fernández of Spain's Dirección General de Tráfico sent out a reassuring message: "Unless there's an accident or unexpected event we don't predict major traffic jams". He also asked fans not to delay their departure to help avoid any problems.
The worst of the traffic for the fans is expected for those who leave Madrid this afternoon, mixing as they will do with the usual Friday afternoon exodus from the capital. The other difficult sections are the entrance to Lisbon itself, and the point on the A5 between Navalcarnero and Talavera where the R5 toll road joins the A5.