BARCELONA | GOALKEEPERS
Pinto tells his teammates he's leaving Barcelona
Newspaper Sport says the keeper has confirmed his departure to the dressing room. Barça need to sign two new goalies.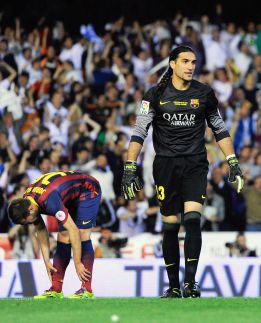 Pinto has told his teammates this will be his last season with Barcelona, according to newspaper Sport. The keeper, who signed in the winter of 2007-08, finishes his contract in June and has decided not to renew.
Some days ago Barcelona's sports director, Andoni Zubizarreta, admitted that both the club and the player had reached a final decision about the keeper's status. If his departure is finally confirmed, along with that of Valdés, Barcelona would in principle need to sign two goalkeepers this summer to replace them. However that would only be possible if FIFA reverse the transfer ban that prevents the club from signing players until June 2015.