LIGA BBVA | REAL MADRID - BARCELONA
Martino backs Neymar: "He's one of the five best in the world"
Speaking on Saturday, the Barcelona boss dropped a strong hint that the Brazilian is to play from the start against rivals Real Madrid.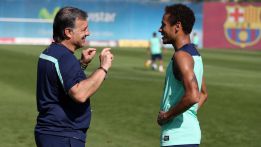 Valdés; Alves, Piqué, Mascherano, Alba; Busquets, Xavi, Iniesta; Fábregas, Neymar, Cesc and Messi. That – barring any late developments – will be Gerardo 'Tata' Martino's Barcelona line-up at the Santiago Bernabéu.
And Martino, who picked Neymar and Leo Messi together in the first Clásico of this year's Liga BBVA season, backed the Brazilian forward in Saturday's pre-match press conference: "Neymar is one of the five best players in the world. I don't want him to feel that he's just another player, because he isn't."
Martino did not publicly confirm Neymar's inclusion in his starting eleven for Sunday's clash against Real Madrid, but his words offer a strong indication that the player will start. It is unclear which position the 21-year-old will take up. He could begin on the right, as he did against Manchester City (Martino likes Cesc Fàbregas and Andrés Iniesta to interchange on the left), or he could play on the left, with Leo Messi dropping to the right wing.
The Barça boss confirmed that his players have already been told his line-up: "This season, the players have always found out whether they'll play the day before the match."