COPA DEL REY | ATLÉTICO MADRID
Atlético Madrid fined 600 euros over Cristiano lighter incident
The Spanish Football Federation's Competition Committee has also warned the Rojiblancos over the possible consequences of a repeat of the incident.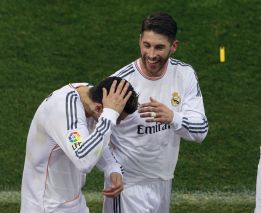 Atlético Madrid have been fined 600 euros for the incident that saw a cigarette lighter thrown at Cristiano Ronaldo in the return leg of the Copa del Rey semi-final on Tuesday.
The Rojiblancos have also been warned by the Spanish Football Federation (RFEF) Competition Committee over "the possible disciplinary consequences which could be brought about by a repeat of similar incidents".
The RFEF deemed the incident "reprehensible conduct from a spectator" but added that Cristiano "was able to continue playing when the match resumed for the second half".
Explaining its verdict, the Federation continued: "This was an isolated incident, in which the object that was used is not banned from sporting arenas and, fortunately, did not cause any damage or injury to the player who was struck, or interrupt the game [which was at half-time]."