REAL MADRID
Marcelo back training, Coentrão stays in the gym
The Brazilian left-back retired from last night's game with back pains, his replacement, Coentrão followed suit after spraining his hamstring.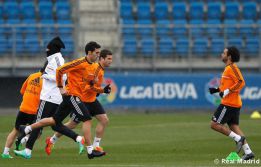 Provisional League leaders Real Madrid returned to the training ground this morning to begin their preparations for Tuesday's Copa del Rey semi-final return leg at Atlético. Sunday's session was conducted behind closed doors.
There was some good news for Carlo Ancelotti – Marcelo, who quit last night's game against Villarreal on 17 minutes after taking a knock to his back, returned to train as normal with the group. The man who replaced him, Fábio Coentrão, who was replaced by Arbeloa at half-time after pulling a hamstring, worked out inside the gym.
Ancelotti had 11 players to work with in Valdebebas – the majority of those who were involved in the Villarreal game warmed down by exercising inside the gym.
The coach split his available players into two groups: in the first, the outfield players - Varane, Nacho, Marcelo, Arbeloa, Isco, Casemiro and Morata while the four goalkeepers Casillas, Diego López, Jesús and Tomás Mejías trained with Villiam Vecchi and Juan Canales.
The first 15 minutes of tomorrow's session will be open to the press and will be followed by Ancelotti's pre-match press conference.