ATLÉTICO CALM OVER KOKE
Koke's Atlético Madrid release clause is 60 million euros
Koke is one of Europe's hottest properties, but Atlético have no intention of letting him go. The Rojiblanco youth product is also adamant he wants to stay.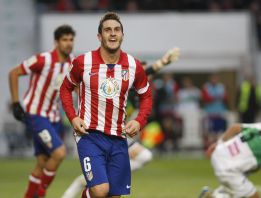 Atlético Madrid are unfazed over the future of key individuals in Diego Simeone's side. The Rojiblancos' form has led major European clubs to set their sights on members of the squad – including midfielder Koke, who has become a fixture in the Atleti line-up.
Pep Guardiola's Bayern Munich are admirers of the 21-year-old. Reports in England say that Manchester United are keen on securing his services, while he is also on Barcelona's list of potential future recruits.
Koke, a product of the youth set-up at Atlético, recently signed a new contract at the Vicente Calderón that includes a release clause set at 60 million euros. The Spain international's new deal, which runs until 2018, ties him to Atleti for the long term. The club believes that his release clause is in keeping with his current standing and his future potential as a player.
The Liga BBVA club's management has endeavoured to hold on to its key players, not only this term but for seasons to come. Moreover, having risen up through the youth ranks at Atlético, Koke feels committed to the Colchoneros. In conversations with the club's directors, he has always maintained that he intends to stay for a number of years.
If any of Europe's top clubs want to sign the midfielder, they will have to pay his release clause or negotiate with Atlético. At the present time, neither club nor player wish to entertain any offers. Koke's plan is to fight for this season's league title and go to the World Cup – all as an Atlético player.
Brazil 2014: "Who wouldn't want to be there?"
In an interview with the Atlético Madrid website, the player admitted that he aims to seal his place in Spain's World Cup squad. "Who wouldn't want to go to the World Cup?" he said. "I have to stay calm and take things one step at a time, though. It's a long season. I'm trying to do everything I can to please the coach and do well, help in any way I can and get into the side little by little, which isn't easy at all."