VALENCIA
Billionaire Peter Lim makes "almighty" offer for Valencia
The Singaporean investor says he would pay off the clubs debts and invest in 30 to 40 million in the team in January.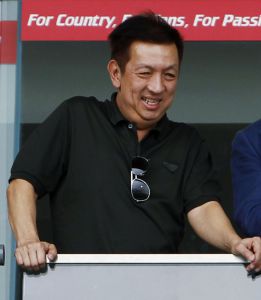 Amadeo Salvo, Valencia President, confirmed that Singaporean investor Peter Lim has made an offer to buy the shares of Fundación VCF, with which he would become the majority shareholder of Valencia, holding 70% of the club. According to Salvo, Lim has made an "almighty" offer. Lim, the son of a fishmonger, became a successful stokebroker before becoming a full-time investor on his own account. He is reckoned to be worth nearly two billion euros and is keen sports fan.
According to Salvo, Peter Lim has agreed to pay off the debts owed to Spanish bank Bankia by both the club itself and Fundación VCF (220 and 81 million euros respectively) and committed to "putting together a competitive team to fight for titles in Spain and Europe". As a first step he would put in 30 to 40 million euros to be spent in the January transfer market to allow Valencia to fight for a Champions League spot, as well as maintaining their current Europa League campaign.
Amadeo Salvo didn't confirm the exact amount Lim is considering paying, but said it would be one of the biggest football club acquisitions ever. The Valencia president repeated what had been said in the shareholders meeting, that Valencia wouldn't be sold for less than "250 million euros".
The offer is apparently open up to 15 January, with Lim asking Bankia to give an answer prior to this date. The bank said last week that they would need four to six weeks to study the different offers they might receive. Lim wants an answer before 15 January because he wants to be able to buy in the winter transfer market.
President Salvo said that Lim is committed to maintaining the current set-up, with Salvo remaining as President, along with other employees and executives. "Peter Lim would be coming on board with the idea of maintaining the history of the club, which would continue to be managed by Valencia fans".
The intention of Lim would be to finish the new stadium, though it wouldn't be a priority, according to Salvo. Whilst Lim could pay for the new stadium there may be other options. Salvo said that an offer arrived recently from a multinational company that would be willing to pay 130 million euros to finish the stadium, in return for the rights to run the stadium subsequently.