REAL MADRID | XABI ALONSO
"Real Madrid are not optimistic that Xabi Alonso will renew"
An article on the website of radio station 'Cadena SER' suggests that the Spain midfielder will not sign a new contract with Madrid, meaning he will leave next June.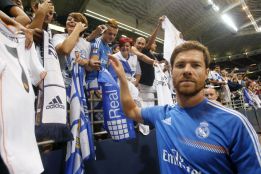 Spanish radio station 'Cadena SER' has suggested that Real Madrid midfielder Xabi Alonso is unlikely to renew his contract with the club.
The club are reportedly pessimistic about the chances of Alonso putting pen to paper on a new deal, with his current contract expiring next summer.
According to the station's website, Alonso's desire to leave Real Madrid is not related to money or the club's achievements on the pitch, but stems from "a wish for a change of scenery, on the part of Xabi Alonso himself and his family".
As of 1 January the player is free to negotiate a new contract with any team, and if talks with another club materialise, he will leave Real Madrid at the end of the season for nothing.
The article continues: "Despite the fact Xabi Alonso has not yet signed for any team, which he will be able to do as of 1 January, Madrid are aware that the player's intention is to not sign a new deal, and they believe their fears that the midfielder will leave the club in June will become a reality."