BARCELONA | PUYOL
Puyol considering retirement
According to Mundo Deportivo, his fitness issues are preventing him from playing to the level he expects. He is considering retiring or moving to a less demanding league.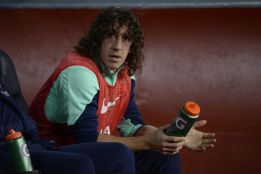 Defender Carles Puyol is seriously contemplating leaving Barcelona or retiring from football early, according to reports in Sunday's Mundo Deportivo.
The Barcelona-based sports daily says that this is due to the fitness problems which are preventing the 35-year-old from producing the on-field performances he expects.
Puyol continues to be troubled by a right knee problem, and is reluctant to compete below his maximum physical level.
Mundo Deportivo claims that the captain is considering the possibility of signing for a team in a less demanding league, and has also told team-mates and members of the club's coaching staff that he isn't ruling out hanging up his boots altogether.
The newspaper says that Puyol will make a decision in the coming months, depending on how his physical condition progresses.