CHAMPIONS LEAGUE | BARÇA 6-1 CELTIC
Gerardo Martino: "Neymar is crying out for a rest"
The Barcelona coach also praised his side's display in the thrashing of Celtic: "It was possibly close to the best we've played over these four months."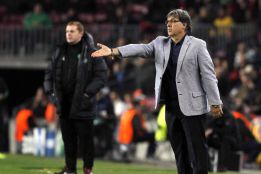 Speaking after Barcelona's 6-1 Champions League win over Celtic, coach Gerardo Martino admitted that Neymar's busy year for club and country is taking its toll on the forward.
The Brazilian hit his first hat-trick for the club as the Blaugrana sealed top spot in Group H, but Martino admitted: "He's crying out for a rest."
Barça performance: "We think it was possibly close to the best we've played over these four months, in terms of our play, effectiveness and the period for which we kept that going: almost the whole 90 minutes. Apart from the last five minutes, we played at a high level."
Improvement: "Barcelona play very well with the ball, and what the team needs is intensity to win it back. Today we also showed focus to win the ball back high up the pitch, we managed possession and circulated the ball when we had to and we sought penetration when it was needed."
Faults: "There's room for improvement, because our opponent had no chance of staying in the competition. Now we have to do this against one of the strong opponents we're going to face now."
Last-16 opponents: "We'll have to see what shape they're in in sixty days' time. The only advantage to finding out [who Barça face in the last 16] now is that we can prepare well. But we have to turn our attention to La Liga and the Copa del Rey. We've done what we had to do in the Champions League. Now we have to wait."
Neymar at number nine: "It depends what shape he's in, how he responds on and off the pitch. He was also able to do what he did tonight while playing on the wing. In football terms, Neymar has had a very difficult year: because of what he did at Santos, because of his move, because he was a key player at the Confederations Cup, because he didn't have a pre-season and because of the travelling he has done with the Brazil team.
"For him, the season isn't at the halfway stage but at its end, and he's crying out for a rest. We hope we can give him that rest. Hopefully he comes back in good shape after Christmas."