INTERVIEW | PLATINI | PART II
"Sarkozy didn't tell me how to vote but I knew what he wanted"
In part II of our exclusive interview with the UEFA President, Platini admits attending a dinner with Sarkozy, but insists: "No-one told me the emir of Qatar would be there."
Alfredo Relaño / Joaquín Maroto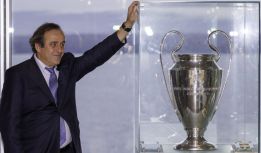 You voted for the 2022 Qatar World Cup and now you say it cannot be played in summer. What solution do you propose?
I said this on the very first day. At the very start I told the people involved in the Qatar bid that you cannot play football over there in the summer. I also proposed that the World Cup should not just be in Qatar, but it could be shared with other countries in the Gulf, such as Abu Dhabi, Dubai, Bahrain, Oman... They listened to what I had to say, but they didn't give me an answer. It [moving the World Cup to winter] is a political decision which only Qatar can make, because that is the country which won the right to host the 2022 World Cup. Both ideas were considered at the start, before and after the vote had taken place. It's not something that has suddenly occurred now.
Is there any chance the 2022 World Cup will take place in a country other than Qatar?
None at all. Perhaps the month when the tournament is played will change, but not the country. The 2022 World Cup will be in Qatar, I'm sure about that.
You have been accused of making a pact with Nicolas Sarkozy and the emir of Qatar to support the World Cup at a bid during a dinner at the Élysée Palace. What do you say about that?
The truth is much more simple. I attended an event at the request of the President of France, which as everyone knows is my country, and when I arrived I met the emir of Qatar and the prime minister of that emirate. No-one had told me they would be there. We had dinner together, but in the same way that I insist no-one told me the Qataris would be there, I can say with my hand on my heart that President Sarkozy did not ask me to vote for Qatar to host the 2022 World Cup, not before, during or after this meeting. I understood that Sarkozy was keen on Qatar hosting the World Cup, but he didn't ask anything of me. (At the centre of the controversy is a dinner which took place on 23 November 2010 at the Élysée Palace, just days before the vote for the 2022 World Cup, between Nicolas Sarkozy, Michel Platini, and the emir of Qatar, Sheikh Hamad Al Thani, as revealed by France Football)
Will the Qatar World Cup be played in the winter?
FIFA and UEFA have agreed on one essential point, which is that playing a World Cup in the summer in Qatar is not the best idea. It's not just that you can't play a football match at that time of year - in that heat, you can't even go for a walk. But it should be Qatar that takes that decision. In any case, FIFA have decided to not take the matter any further until after the World Cup in Brazil.
Would UEFA prefer to have the World Cup in December or January?
We are looking into it. If it were in January it wouldn't affect the Champions League and if it were in December it wouldn't affect the Winter Olympics.. We will see.
Ángel María Villar - the President of the Spanish Football Federation - also voted for Qatar, did you know that? (He admitted so in a hotel in Geneva last September)
I don't know, he never told me, but if you say so, then you must know.
Why do you support the idea of increasing the number of teams in the World Cup from 32 to 40?
It's a clear message. I won't accept the reduction in the number of European teams at the World Cup. In the 1998 World Cup in France there were 15 European teams, and in the next World Cup, in Brazil, there will be two fewer teams from Europe, 13 in total. Therefore, what I have said loud and clear is that you cannot mess with Europe. And if you do mess with it, it should be to increase the number of countries from our continent, not reduce it to the benefit of countries from another part of the world. Instead of reducing the number of European places, we should move towards a 40-team World Cup. We can add two teams from Africa, two from Asia, two from the Americas, one from Oceania and another from Europe. We could all enjoy a World Cup with five teams in eight groups, and the tournament would last another week. I would completely support such a plan (the UEFA President also declared he shared the opinion of FIFA President Sepp Blatter about the need for a bigger presence from Africa, given that this continent has 54 teams and just five places in the World Cup).
What do you think of the idea of having two categories of teams for the knock out stages of European Championships and World Cups? Two categories with relegation and promotion?
It's difficult to do that and it's not a plan I'd recommend to anyone who aspires to be the President of FIFA or UEFA.
There will be FIFA elections in 2015. Will you stand?
We don't know what the future holds. Truthfully, and I speak from the heart here, I still haven't decided. I don't know if I will stand or not. What I can say is that I will make my decision in 2014, perhaps before, during or after the World Cup. (Although he hasn't confirmed it, all signs point to Platini waiting until the final week of the World Cup before announcing whether or not to stand for the FIFA presidency)
If you did stand, what would be the fundamentals of your bid?
I haven't thought about it. There's a lot of time until 2015. Right now I'm thinking about UEFA, which is more united than ever, something which makes me very proud. We have expanded the European Championships from 16 to 24 teams, the number which will compete in France in 2016. We've also decided that Euro 2020 will be played across 13 European capitals, and we are working towards improving European club competitions, as well as ending racism and match fixing. Therefore, we have too much work to be getting on with at UEFA for now to think about FIFA.
What type of relationship do you have with Villar?
A normal relationship. It's normal, because Villar doesn't talk a lot. But he makes himself understood very well, with his hands, with his gestures. The problem is that when I speak to him I need to have someone close by to translate for us. But he has no problem making himself understood, and he understands everything. To be the president of the Spanish Football Federation for 25 years is not easy, not just anyone can pull that off. We have to appreciate that. Villar is a respectful and kind person. He worries about people's problems and tries to help them out. He's very spiritual.
If you leave UEFA, will Villar be your substitute?
As I'm not contemplating the first hypothetical situation, I can't contemplate the second. But VIllar is a brave man, a clever and experienced man.
In Spain people think you have been critical of our national team. When we won the European Championships and the World Cup, you didn't praise Spain's style of play or our footballers...
It's not true. I like the Spain team and I like how they play football. They remind me of the France team of the 80s, which had players like Giresse and Tigana, small guys like Xavi and Iniesta, but with enormous talent. But it's not just them, there's also the defenders, experts who also know how to play with the ball at their feet. Then there are the forwards, who have profited from this technical play with power and an ability to shoot. Spain is a powerful force, the best national team of the last few years. That's why they've won the last two European Championships and the last World Cup. But the most important thing is that they have done that by making the world fall in love with their football, which fans and footballers alike enjoy watching. That's why they have so many fans all over the world.
Do you think Spain are the favourites to win the next World Cup?
They are among the favourites because they are the current champions, but it will depend on their strength, the condition in which their players arrive at the World Cup. Especially the state in which their veterans, like Xavi, Puyol and Xabi Alonso arrive. But the truth is that the young players Del Bosque has brought through are also proving their worth. The team has not suffered. If everything goes well or them then yes, I think they can win the World Cup again.
Which Spain player do you like the most?
They are all good, and different in their own ways. Iniesta does unique things, but so does David Silva. Puyol and Piqué are monsters. When a team wins two European Championships and two World Cups, it's not because they have one superstar, it's because they have many. They are a complete team.
Do you like Del Bosque?
I like Del Bosque a lot, and not just as a coach, but as a person too. He's an easy going man, who knows how to win and lose, who never loses a sense of class or sportsman's spirit. What's more, he's built winning team after winning team, and that's not easy.
What are UEFA doing to support women's football?
UEFA is firmly committed to the promotion of women's football in the 54 member associations. We do that through two mediums: competitions and development. In 2010 we put in place a specific programme for women's football, the first in the history of UEFA, with the main objective of giving women the maximum opportunity to play in their local communities, regardless of their talent. UEFA's 'HatTrick' programme offers each Federation 100,000 euros to be used specifically for the development of women's' football. This new programme of competitions, leagues and activities for youngsters was established by UEFA members, and permits their players to compete at regional level and progress on the international stage. At the same time, many organisations have invested in technical formation and in the creation of specialised courses for female referees, and in some countries they have opened centres dedicated to women's football. UEFA has financed all of these projects as part of the programme. We've also launched the first course for female referees at a European level as part of our CORE programme, which takes place at the UEFA training centre, and we've created tournaments for development of girls under 16 years of age all over Europe. Lastly, at a competitive level, we created the UEFA Champions League for women, which has had great success – more than 50,000 spectators, for example, went to watch the final in Munich in 2012. And we have employed substantial resources towards the organisation of the women's European Championships, with the aim of making it a great event in the international calendar, like it was this summer in Sweden. The television audience and attendance figures broke records, more than 40,000 people watched the final between Germany and Norway.